Key Facts
Situation:
Hurricane Dorian was an unprecedented Category 5 hurricane that lingered over the Bahamas in August 2019 for more than 24 hours. It caused extensive damage to the islands, particularly Great Abaco and Grand Bahama, resulting in multiple fatalities and widespread devastation. The hurricane's path was unusual due to pressure systems causing it to turn sharply northward, making it the most powerful hurricane to hit the northwestern Bahamas in recent times.
The Challenge:
Prior to and during intensifying Hurricane Dorian, Air Partner received charter requests across all divisions, including Group Charter, Private Jets, and Cargo. The requests varied from mass evacuation flights from areas in the path of the hurricane, urgent flight requests due to travel disruption, flights to reach the islands, and relief cargo flights with humanitarian aid shipments.


Solutions
Evacuation flights via Group Charter: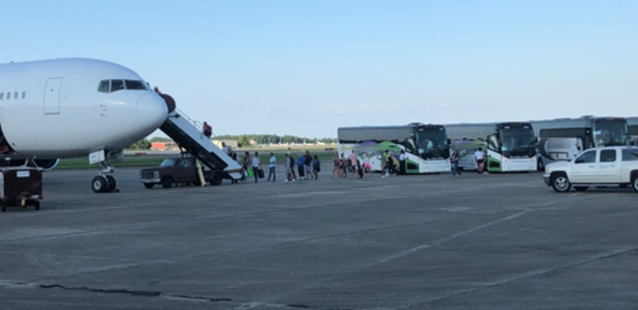 Situation:
Hurricane Dorian moved away from the U.S. Virgin Islands and Puerto Rico and became stronger as it headed toward the Atlantic. It eventually made landfall in the Bahamas, specifically at Elbow Cay in Great Abaco, located in the northwestern part of the country - the island experienced tropical-storm-force winds for approximately three days.

The hurricane's trajectory posed a threat to nearby cruise lines, requesting assistance from the Air Partner team. Our group charter experts quickly organized multiple evacuation flights to ensure the safety of both passengers and crew.
Flights:
The Group Charter team booked flights with four airlines and seven aircraft, including Boeing 737, Boeing 757, and Boeing 767.
Solution:
With less than 24 hours notice, the Group Charter team assisted cruise ships that had to be rerouted, ensuring that over 1800 passengers could reach their intended destination successfully or return home safely.

Our charter specialists worked tirelessly to ensure that all necessary procedures, permits, and requirements were in place for a smooth and uninterrupted operation. Due to unfavorable weather conditions, the first cruise ship that was supposed to dock at Port Miami, Florida, had to be redirected to Port New Orleans, LA. The Air Partner team was able to transport 1,200 passengers from New Orleans to Miami. After successfully assisting the first cruise ship, a second ship line was also redirected to New Orleans as it was unable to dock at Port Canaveral, Florida. The Group Charter team then flew an additional 900 passengers from the second ship to their desired destination.

Critical Aid Delivery via Cargo Charter: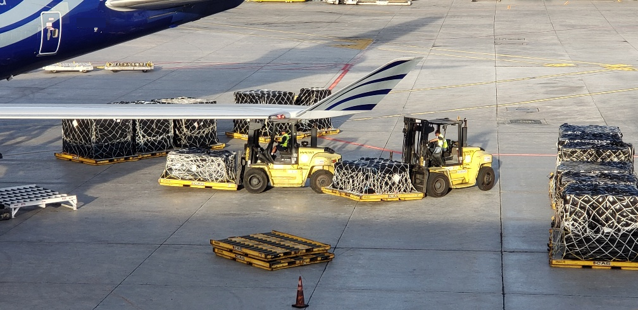 Situation:
After Hurricane Dorian's trail of destruction, it was reported by The Inter-American Development Bank that 29,500 individuals were left without homes or jobs. Abaco Island was hit the hardest, with 87 percent of the damage. Over 75 percent of homes on the island were damaged. In response to this devastation, the Cargo team was asked to provide cargo flights with humanitarian aid to Freeport on Grand Bahama Island and Marsh Harbour on Abaco Island.
Cargo:
The Cargo team transported a total of 35 tons of humanitarian aid and relief shipments.
Solution:
The Cargo team successfully delivered the first US government-sponsored aid on the ground following the hurricane. The humanitarian aid and relief supplies consisted of hygiene kits, portable toilets, chainsaws, drinking water, and plastic tarps for temporary shelter and tents. Our cargo specialists collaborated closely with the client, carrier, and ground handlers to ensure smooth operations as the situation was taking place.
Evacuation flights via Private Jets:Situation:
After departing from the Bahamas, Hurricane Dorian swiftly made its way toward the United States, impacting regions in Florida, Georgia, South Carolina, North Carolina, and Virginia. The hurricane caused significant flight disruptions all over the country, and the residents of many of these areas expressed the desire to evacuate to states where there was no possible storm threat or to continue with travel plans they had already scheduled.
Flights:
The Private Jets team chartered four flights out of Florida on midsize aircraft, including Hawker 400XP.
Solution:
Thanks to the Air Partner Private Jets team's flexibility, quick response, and extensive network, all Florida flight requests were successfully completed. Two flights departed from Palm Beach International Airport, one with four passengers and two dogs headed to New York, while the other had two passengers en route to Maryland. With 26 passengers, the second flight departed from Opa-Locka Airport and required chartering of two aircraft to reach Philadelphia.


Expertise from Air Partner
In the event of a natural disaster, chartering private aircraft can prove to be the most efficient solution, given the urgency of the situation and time constraints. Our Charter experts are well-versed in organizing time-sensitive and complex charter operations in some of the most challenging conditions and locations.

We are known for providing disaster response and recovery solutions for some of the most difficult situations, whether it be an evacuation due to a hurricane or other natural disaster, extracting personnel from hostile environments, or delivering vital resources to affected areas.
Hurricane report: AL052019_Dorian_final_20200427 (noaa.gov)