RequestDuring the late spring of 2021, the Air Partner Private Jets team responded to an urgent air charter request to repatriate a Covid-19 patient, requiring air transport from Colombia to Korea. Due to it being a Covid-related case, our team had to make the necessary arrangements for an air ambulance along with the medical transport of the patient, medical staff, and crew — which included a trauma and critical care doctor, nurse, and an onboard flight mechanic. 
Challenge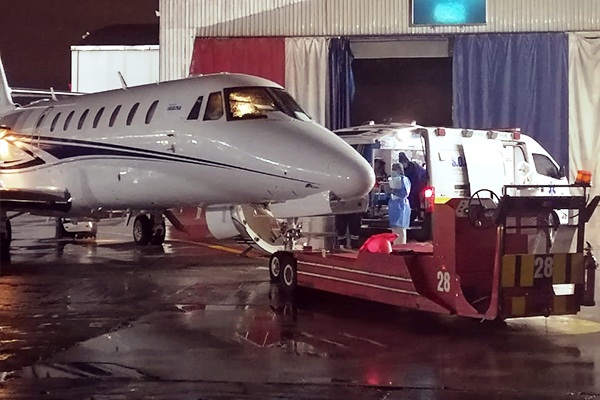 Due to the distance of the journey with consideration of the medical situation, the Air Partner Private Jets needed to respond quickly to the  emergency charter request while making all necessary considerations for flight planning. Permits for international travel needed to be approved prior to departure from the country of origin. Additionally, medical approvals from the hospital in Bogota and Seoul were required for transport. Due to the adverse weather on the flight route, prior airport approvals was an important factor before embarking.
The Cessna Citation Sovereign aircraft needed to be modified into an air ambulance to safely transport the patient and medical team. In case on an emergency during the flight, all medical trauma equipment needed to be carried on board, including supplement oxygen supply for the patient.
Solution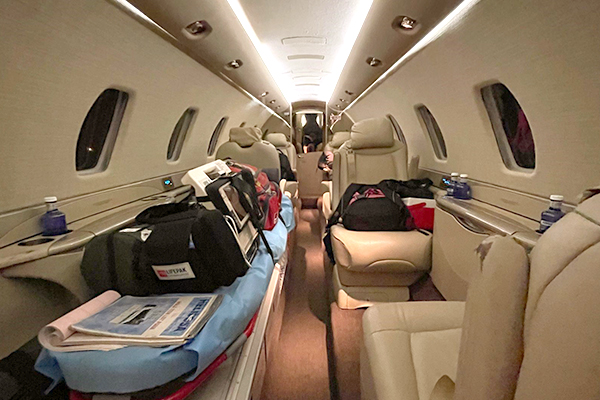 Our team arranged for a chartered Cessna Citation Sovereign aircraft set up in air ambulance configuration. This aircraft was the ideal choice as it was one of the few jets in the region to have the operational capacity and crew to make this mission possible. 
Flight planning was tightly coordinated in three days by our team. This included obtaining necessary flight permits for aircraft and crew. Medical permits were required for the patient passenger, as well as medical personnel. 
Once everything was set, the flight departed. The crew and medical team would use the necessary PPE to protect themselves on board. To navigate the adverse weather conditions flying from the Colombia to Alaska, with over 100 mph headwinds, the flight made several stops, which served as an opportunity to refuel and do a crew swap along the way. The flight stopped in San Antonio, Seattle, Anchorage, and Russia on the way to Seoul.
Arriving to the final destination in Seoul in the evening time, the patient was safely transported in an ambulance to a local hospital. The total journey took place in approximately 28 hours, and the client was extremely pleased with our rapid response to the situation and for our commitment to delivering a high level of service and making this time-critical private flight possible.
The Air Partner Private Jets team provide private charters solutions for urgent situations and emergencies. We have a global network and a 24/7 support team.
Learn more about our Air Evacuation services.