Considering the severe impacts of hurricanes, our Cargo charter flight specialists needed to provide a critically urgent cargo solution to deliver disaster recovery to the U.S. territory of Guam in the aftermath of Typhoon Mawar. Recorded as the strongest storm to hit Guam in over 20 years, the battered island was left with damaged homes, apartment buildings, and residents without access to water or electricity.

Key factsSituation: Urgent air cargo charter transport of disaster recovery resources for critical island infrastructure of Guam following Typhoon Mawar (Hurricane Betty)

Cargo: Utility trucks, heavy machinery, and repair equipment

Solution: Multi-flight cargo charter program from various U.S. mainland locations to Guam using Antonov-124 cargo aircraft

Challenge
Our cargo charter team at Air Partner had an urgent requirement to deliver utility trucks and additional equipment from the continental U.S. to Guam to be used in repairing the island's electrical infrastructure.

Due to the short notice of the cargo arrangements, it was crucial to secure the aircraft immediately. Our team had only a limited availability window to operate long-haul flights to the western Pacific region; thus, we needed to ensure a tight, efficient, and coordinated process to load and deliver the cargo on time.

Humanitarian aid operations are often fluid, and details can change rapidly. Our charter team worked hand in hand with the client, the carrier, and ground handlers to ensure seamless operations as the situation developed.

Our global cargo experts collaborated closely to manage the transport logistics and scheduling, with the points of origin being in multiple cities across the United States.

SolutionChartering cargo aircraft is often the most effective solution in natural disaster recovery efforts, considering the circumstances and time constraints. Working in alliance with Antonov Airlines, Air Partner arranged the use of Antonov AN-124 aircraft, the only cargo plane that could accommodate and transport the oversized utility vehicles from the closest airports to the truck supply locations.

We chartered four flights to Guam: one from Honolulu, one from Indianapolis, and two from Seattle. Over a 4-day period, each flight transported multiple utility vehicles, bucket trucks, tools, and materials to be used for repairing electrical power lines to Guam. The total payloads reached up to 65 tons.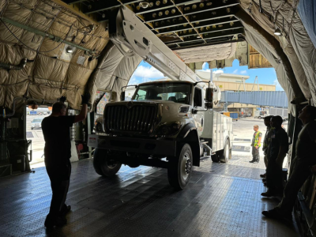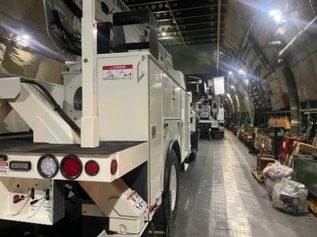 By having complete authority over the departure airport, the shipper avoided the loss of several days of ground transportation throughout the continental United States. Providing dedicated support, we adjusted to any last-minute changes requested by the client, as the final cargo payloads were only available the day before the flight.

It was a successfully smooth mission for all four flights, delivering on time, and our client was reassured with consistent communication throughout the delivery to Guam International Airport. 

Expertise
The lead Account Director from our U.S. Cargo Charter, Joe Lacek, who oversaw this project, emphasized, "When you are dealing with life-saving and critical infrastructure, the speed of the overall operation is imperative. Good communication and having a charter provider with a reliable, global network saves everyone time, money, and mitigates risk".

When it comes to helping our customers globally with disaster recovery cargo, we have the experience to assist with the movement of supplies, materials, food, and vital resources to areas impacted by catastrophic damage. Delivering urgent freight via charter is something that we are well versed in.

With a global network and 24/7 support team, we are always available to offer you a reliable service that meets your deadlines and offers custom solutions to suit your cargo size requirements and complex logistics.
We will respond within 20 minutes of your request to ensure any relief goods, medical, or other equipment will reach their destination as soon as possible. Get in touch today for more information.