Key facts
Situation:
During the nationwide baby formula supply shortage in February of 2022, the largest domestic baby formula supplier was forced to do a major recall of baby formula products due to contamination at its plant in Michigan. In response to this massive decrease in supply, the Biden administration launched Operation Fly Formula, a government initiative to import baby formula for those in need. Due to the urgency to replenish store shelves, hospitals, and home health care providers, there was a critical need to offer a quick cargo transport solution and reliable operation in order to transport the infant formula from multiple countries to select U.S. cities.
Cargo:
Eight hundred fifty tons of Baby formula / approximately 30,000 cases of formula per flight.

Solution:
A series of cargo charter flights from Australia, New Zealand, and Europe to the US using Boeing B747-400F aircraft.

The ChallengeThe Air Partner cargo charter team was enlisted to transport baby formula from overseas to select U.S. cities.
They were required to organize a swift and secure cargo operation according to certain specifications. These strict transport requirements set by the U.S. Health and Safety standards were met to prevent the formula from spoiling and to avoid product contamination.


Solution: Operation Fly FormulaAir Partner worked alongside our client to provide cargo charter flights for transporting baby formula supplies from countries that could provide them. We provided ten international cargo flights from Australia, New Zealand, and Belgium going to New York, Los Angeles, Texas, and Ohio. Each cargo flight transported an average of 80-85 tons of baby formula powder on chartered Boeing 747-400F aircraft.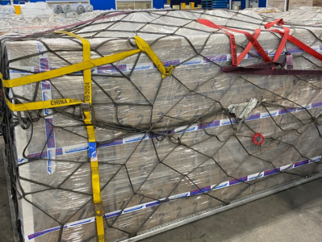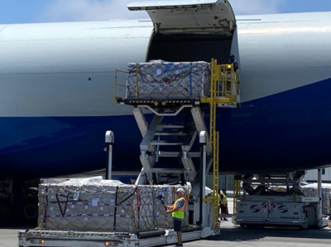 To maintain product quality, our team worked around the clock, maintaining close communication with the suppliers, ground logistics teams, airport staff, and carrier operations team. Our goal was to prevent cargo exposure to weather or temperatures that could damage the formula.
The ten flights were spread over 15 weeks, contributing to the steady flow of fresh baby formula to the US. Our Air Partner cargo team successfully transported over 850 tons of baby formula from Europe, Australia, and New Zealand under Operation Fly Formula.
To date, Operation Fly Formula has transported nearly 64 million 8-ounce bottle equivalents to the U.S.

Expertise from Air Partner"The formula shortage presented a critical need for the air cargo transport as the only solution capable of meeting this urgent mission," recounted Joe Lacek, Account Manager on our US Cargo team, who managed many of the flights.
"While speed and efficiency are of the utmost importance, transporting such sensitive goods also requires a great amount of diligence to ensure the cargo is prepared, permitted, and stored appropriately. With Air Partner's global cargo team, we were able to organize quickly and ensure delivery of the largest volume of product in the quickest amount of time."
The cargo team was proud to be able to respond and deliver our services to help resolve the national crisis.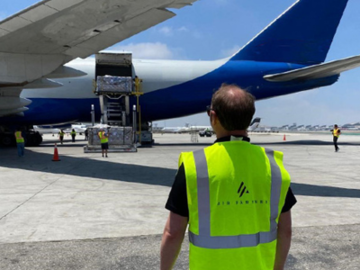 ---
Experienced in the critical freight transport of essential goods globally, Air Partner has played an integral role in the increased demand for the movement of goods to keep global supply chains operating across every industry.
Our Cargo experts provide custom air charter solutions that can support supply chain operations globally and offer specialized consultancy and planning for companies to improve efficiency and minimize risk while ensuring your transport and logistics requirements are properly met.
Using our experience with moving large quantities and heavy/oversized payloads of goods, raw commodities, parts, materials, and equipment anywhere in the world.