In the Cabin with...
Juan Silva: Group Charter US Account Manager at Air Partner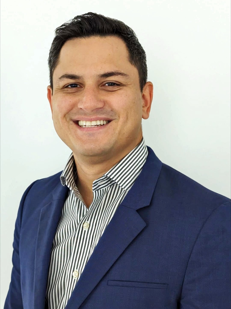 Whether you're looking to charter flights for your group from point A to B, or if you require a complex shuttle program, Air Partner's 60 years of aviation experience ensures our experts deliver seamless group charter flight solutions - no matter the destination or group size. Meet the team who go above and beyond to deliver our clients the best service possible.
We are delighted to interview Juan Silva, Group Charter US Account Manager. We discussed his time at Air Partner, the key industries he serves, and advice for companies and individuals looking to charter private aircraft. 
Can you tell us about your role at Air Partner?I joined Air Partner in 2016 as an Account Manager, supporting our Group Charter team here in the Americas. My role involves developing and maintaining relationships with our clients and making the necessary arrangements for their air charter requests. 
 
I am responsible for interacting with our customers from when they request a quote until the flight is completed. I handle every aspect of chartering the aircraft, including issuing contracts, preparing logistics for the flight, and overseeing the operation at the airport to ensure everything goes smoothly. 
 What key industries do you serve? The Group Charter US team manages clients from a variety of industries. Some of the clients I frequently work with include meeting planners, sports teams, cruise lines, financial institutions, agents and corporate travel, and high-net-worth individuals.
Why did you choose a career in aviation? I stumbled into my aviation career by chance when I was offered a job as a broker, and I decided to take the opportunity. Nowadays, I find great satisfaction in working in aircraft charter, particularly when it comes to overseeing the operations and managing the intricate logistics required to arrange chartered flights. 
What is your philosophy for delivering exceptional service to your customers? Many of my experiences have led me to adopt a philosophy centered around patience, attentiveness, and responsiveness. Ultimately, my clients rely on my ability to help them organize their planning and travel. These are important qualities in delivering a world-class service. My clients get to know me, and I understand their needs - a high level of trust that goes into maintaining close relationships. 
Tell us about your first charter.During my initial year as a broker, I organized an incentive trip that involved transporting around 900 individuals from Europe to a convention in Vegas. To ensure smooth operations, we opted to contract two Boeing 767s and a Boeing 777, the most appropriate aircraft for the job. It was a complex assignment, but I'm pleased to say that as my first charter, the project was successful. 
What is your most memorable/and or challenging charter moment to date?My most challenging and even memorable experience was organizing my first cruise evacuation. The client gave us only 48 hours notice, but we managed to successfully move nearly 2000 people from the Caribbean to New York. Despite not sleeping for two days, we ensured that the entire operation went smoothly without any issues. Being able to provide solutions for urgent situations is particularly rewarding…Moments like this demonstrate the resourcefulness of what I do - providing real air charter solutions.
What specific advice do you have for companies looking to charter aircraft?When seeking to charter aircraft, it's crucial for companies to choose reputable and honest air charter brokers with a proven track record of success in the industry. Air Partner is a prime example of such an organization, offering outstanding customer service and a rich service history. 
What advice would you give to anyone looking to charter an aircraft for the first time?If you're new to chartering an aircraft, it's important to find an air charter broker to help navigate the process. The high costs can be intimidating, but with proper guidance from a knowledgeable broker, you can feel more at ease about chartering private aircraft. Our job is to guide the client step-by-step and take away the "worry" about chartering. After experiencing the benefits of a successful charter operation, you won't hesitate to charter for future trips.
Learn more about our Group Charter services.