In the Cabin with...
Felipe Ballesteros: Private Jets US Account Manager at Air Partner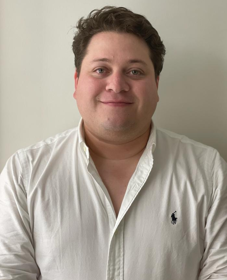 For 60 years, our team of aviation professionals has gone above and beyond to create personalized charter experiences. Whether you are traveling for business or leisure, our expert Private Jets team is available 24/7 to assist with all your charter requirements. 
We are delighted to interview Felipe Ballesteros, Private Jets US Account Manager. Felipe celebrates his five-year anniversary with Air Partner this year and plays an integral part in supporting our Private Jets team with our global service delivery. We discussed his time at Air Partner, why he embarked on a career in aviation, and the key industries he serves. 
Can you tell us about your role at Air Partner?I joined Air Partner in 2018 and now work as a Private Jets Account Manager. My responsibilities include overseeing and conducting sales in the United States and South American markets.
What key industries do you serve?
As a Private Jets Account Manager, I oversee accounts for clients from different industries, such as corporate clients, individuals traveling for leisure, and occasionally celebrities. It is an absolute pleasure to serve such a diverse range of customers.
Why did you choose a career in aviation?From a young age, I have been fascinated by airplanes and the notion of travel. I always dreamed of becoming a pilot, but my family had other plans for me after I graduated high school. Despite this, I knew that I would eventually pursue a career in the aviation industry after college.

Currently, with seven years of experience in the aviation field, I particularly enjoy navigating complex and time-sensitive operations, such as chartering aircraft for evacuations during the COVID-19 pandemic.
What is your favorite aircraft and why?My favorite aircraft is the Global 7500; the aircraft has impressive and unique features, such as an onboard shower!
During your time spent working in aviation, what changes have you seen within Air Partner?Throughout my years working at Air Partner, I have observed a significant increase in the diversity of our team. We have been fortunate enough to welcome individuals from diverse backgrounds, nationalities, and cultures, which has undoubtedly made us a stronger team.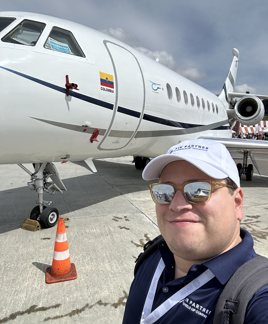 What is your philosophy for delivering exceptional service to your customers?  Many of my experiences in the aviation industry have led me to adopt a philosophy centered around transparency and effective communication. At Air Partner, we prioritize the clear communication of all aspects of chartering an aircraft to our clients, "the good, bad, and ugly," allowing them access to all the necessary information to make the best decisions for their travel plans.
Tell us about your first charter.I chartered my first flight with Air Partner in September 2018. Having to figure out a few complex issues for this flight, I quickly realized why we do what we do to provide the best possible service and solutions. And that ensuring our client satisfaction is a top priority.
What is your most memorable/and or challenging charter moment to date?The most memorable charter I've ever performed to date was an air ambulance flight from Bogota, Colombia, to Seoul, South Korea, for a critical patient during the COVID-19 pandemic. The mission was highly complex; it took over 72 hours to plan and execute effectively.
What specific advice do you have for companies looking to charter aircraft?As Account Managers, we must understand the objective of every charter booked and analyze potential limitations associated with each flight. If you're a company seeking to charter aircraft, it's crucial for you to share as much information and detail as possible, so we can source the best solutions in the market and have a successful project. 
What advice would you give to anyone looking to charter an aircraft for the first time?When embarking on your first charter experience, it's important to prioritize safety above all else. While pricing may be a consideration, it should not come at the expense of safety. As Account Managers, we ensure that the aircraft operators we select for your chartered flights comply with Air Partner's safety standards.
Learn more about our Private Jet services.