In the Cabin with...
Brandon Keene: Private Jets US Director of Sales at Air Partner
For 60 years, our team of aviation professionals has gone above and beyond to create personalized charter experiences. Whether you are traveling for business or leisure, our expert Private Jets team is available 24/7 to assist with all your charter requirements.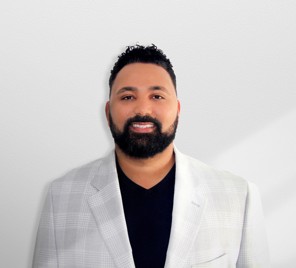 We had the pleasure of interviewing Brandon Keene, the Director of Sales for Private Jets US at Air Partner. Brandon has been a valuable member of the team for the past four years and is well-known for his outstanding work on the JetCard program, as well as his involvement with the music and touring industry. In this article, we delve into Brandon's experience with Air Partner, how he arranges charter flights for professionals in the music industry, and his approach to providing top-notch customer service.

Can you tell us about your role at Air Partner?  My role involves managing existing business relationships and proactively discovering new opportunities to provide charter solutions via On Demand Private Jets, Charter Management and JetCard.
Additionally, I am directly involved in the end-to-end process of private jet charters. This entails handling everything from initial prospect and client quote requests, contract negotiation, and flight operations coordination to ensuring the smooth offloading of passengers at their destinations.
What key industries do you serve?The Private Jets division manages clients from a variety of industries. Some clients I frequently work with include entertainment, sports teams, financial institutions, corporate travel, and high-net-worth individuals.
Why did you choose a career in aviation?Honestly, I didn't plan to work in aviation; it happened accidentally when I was presented with an opportunity to join as a Trainee Broker at a different brokerage. The idea that I could travel the globe, meet extraordinary people, and make a great living is what truly had me sold. 
What year did you start working with Air Partner?I joined Air Partner in 2019. From the very beginning, I always kept asking myself how I could be more valuable to my clients. Air Partner provided me with the best tools to precisely achieve that goal, and ever since, I've never looked back. I am proud to be part of an exceptional team that is making an impact in the industry.
How long have you worked in private aviation?
I have close to a decade of experience in the private aviation sector. I began my journey at as a trainee broker. With unwavering determination and self-drive, I swiftly ascended to Senior Consultant and Team Lead, where my expertise in the industry deepened over the years.
What is the real strength of Air Partner?
At Air Partner, our greatest asset is undoubtedly our people and level of expertise. Unlike many others, we are not an entry-level brokerage. Every member of our team boasts a minimum of 5 years of experience with vast knowledge and understanding of the industry, all of whom have established themselves as experts in their respective fields. We pride ourselves on our team's collective strength and expertise, making us a powerhouse in the private aviation sector and a trusted choice in the industry.
During your time spent working in aviation, what changes have you seen within Air Partner?Since joining Air Partner, I've witnessed significant transformations within the company. We've undergone substantial growth, expanding both in size and global reach. Despite the challenges posed by COVID-19, we strategically established multiple domestic offices and welcomed skilled professionals, enhancing our industry expertise. 
What do you enjoy most about working in aircraft charter?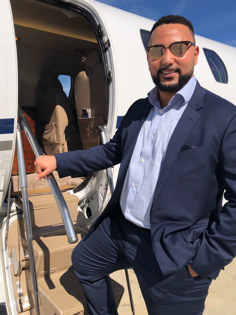 What I find most rewarding is that each day presents its unique challenges and opportunities. Whether preparing a presentation for a JetCard client, organizing a global music tour, or coordinating an emergency evacuation during a hurricane, the diversity of tasks keeps me engaged and motivated.
What is your favorite aircraft and why?
My favorite aircraft is the Embraer Lineage 1000E. While it may not be widely available in the charter market, Embraer has established a reputation for unwavering commitment to quality and innovation. Their executive jets boast cutting-edge technology, top-notch materials, and advanced engineering, appealing to clients seeking the latest advancements in aviation.
Embraer prioritizes interior comfort, offering spacious and luxurious cabins crucial for long flights or travelers desiring opulence. They maintain strong safety records, which is a paramount factor in aviation. Their executive jets also retain value well in the used aircraft market, appealing to buyers considering future upgrades. Lastly, Embraer's esteemed history in the aviation sector, spanning commercial and military aircraft, adds to its credibility and reliability.
What is your philosophy for delivering exceptional service for your customers? And as a team leader, how do you pass this on?My approach to exceptional service is rooted in understanding clients' needs and maintaining integrity, transparency, and effective communication. At Air Partner, we emphasize clear communication, providing clients with all necessary information and ensuring informed decision-making about their travel plans. As a team leader, I instill this philosophy through unwavering consistency, ensuring our team maintains the highest standards in every interaction, fostering trust, and delivering outstanding service to our valued clients.
What specific advice do you have for companies looking to charter aircraft?It's imperative to adapt to the ever-changing charter market dynamics, drawing important lessons from recent events like the COVID-19 pandemic. As a director involved in sourcing aircraft, I emphasize understanding trip objectives and assessing potential flight limitations. Transparent communication is key; sharing detailed information enables consultants to source optimal solutions, minimizing risks for a successful mission. Choosing a reputable firm like Air Partner is crucial, given our solid expertise, extensive service record, and financial stability, ensuring a reliable and secure charter experience.
Tell us about your first charter.My first charter experience took place in 2014. It was a high-pressure "go now" flight scheduled to depart within 4 hours. Swiftly, I evaluated options, secured the flight, organized catering and ground transportation, and greeted the client at the FBO in Van Nuys.
Upon the client's arrival at their destination, I received a direct call expressing gratitude for the rapid response and excellent service. This positive experience led to multiple additional flights from the same client that month and two valuable referrals. The entire process was an adrenaline rush, highlighting the importance of our dedication to providing exceptional service and solutions and prioritizing client satisfaction.
What is your most memorable/and or challenging charter moment to date?One of the most memorable and challenging charters I've undertaken involved a 5-month worldwide music tour comprising over 70 live segments. Coordinating catering and ground transportation for each segment was a significant task. The mission was highly complex, with frequent alterations requested by the passengers for almost every segment. Because the departure times were usually around 2 AM, I didn't get much sleep. Handling a project of this magnitude required a great amount of attention to detail and resourcefulness due to the continuous challenges that arose at every turn.
What advice would you give to anyone looking to charter an aircraft for the first time?
For individuals chartering an aircraft for the first time, I suggest seeking a reputable charter broker who can expertly guide you through the process. Private aviation companies vary greatly in their services, and without the proper guidance, you may encounter numerous difficulties. Having a knowledgeable guide, like Air Partner, to navigate the complexities and support you through any difficulties is invaluable. 
While pricing is important, it should never compromise your safety or the quality of service you receive. Therefore, investing in a competent guide ensures a smooth and secure chartering experience.
Learn more about our Private Jet services.