Proven to boost employee loyalty and engagement and help drive business goals, it is no surprise that incentive travel trips are popular for top organisations and talent. With hybrid and remote working on the rise post-pandemic, it is also a great way to bring teams together to strengthen bonds, increase productivity, and create long-lasting memories.
From relaxing beachside locations to Southern gems, our corporate travel experts explore the top five US destinations guaranteed to incentivise your team.
1. Maui, Hawaii
Boasting world-famous beaches, a thriving gastronomic scene, and a host of luxurious resorts that will help your team unwind and unplug, Hawaii is a sought-after domestic travel destination.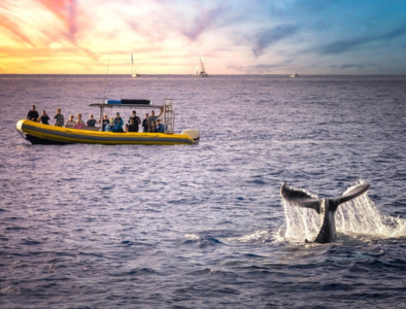 The major islands all have their own unique flair, but glorious Maui tops our list and offers travellers of all ages and interests an unforgettable experience. Guests can soak up some shoreside sunshine before snorkelling, scuba diving, or deep-sea fishing. This island paradise offers so much more than just its rich blue waters and red sand beaches.
Top activities include watching the magnificent sunrise or sunset from Haleakalā, the largest dormant volcano crater in the world, marvelling at migrating humpback whales, and hiking past waterfalls and bamboo forests on the Pipiwai Trail. You can even take in the sights from the skies on a helicopter tour organised by Air Partner or play a round at a world-class golf course before enjoying a feast and hula at Old Lahaina Luau.
2. Charleston, South Carolina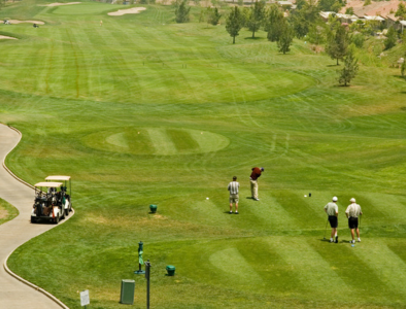 Oozing Southern charm and a rich culture right out of the movies, Charleston is a much-loved gem that often finds itself in a top spot on the world's best cities lists. As well as the abundant history, elegant architecture, quaint cobbled streets, and a thriving contemporary art scene, the city is a culinary powerhouse, offering foodies some of the best barbecue and seafood in the nation.
Golf-loving groups will enjoy the plentiful options on the island of Kiawah, a short 25-mile trip from Charleston, which is one of the premier golf destinations on the East Coast. History buffs can take a ferry trip to Fort Sumter and stand in the exact spot where the Civil War began or tour perfectly preserved mansions, plantations, and historic gardens.
3. Austin, Texas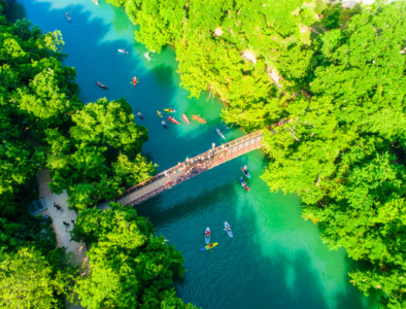 Welcome to the live music capital of the world. With over 250 music venues offering everything from traditional blues to honky-tonk and hip-hop every night of the week, this star of a city is the perfect place to organise an unforgettable musical experience.
When your group isn't two-stepping, try stand-up paddleboarding or kayaking on the beautiful Lady Bird Lake before passing the sun-drenched days mural hopping or visiting cultural institutions like the Blanton Museum of Art. When it comes to dining, you'll also be spoilt for choice. From trendy breakfast tacos to top-notch Tex-Mex and the famed barbecue scene, Austin really does have it all.
4. Saint Thomas, US Virgin Islands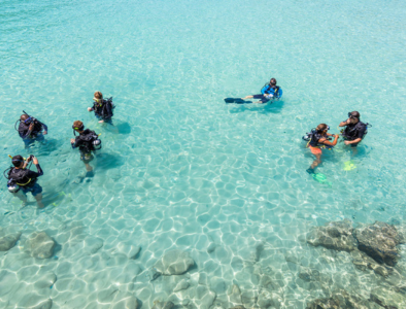 A trip to this palm-strewn paradise in the Caribbean tops many travellers' bucket lists. Offering postcard-worthy beaches, some of the clearest waters in the world, hard-to-beat snorkelling, and water sports, and a buzzy cosmopolitan capital, the island of St. Thomas is both beautiful and easily accessible, securing it as a top incentive travel destination for smaller groups.
Guests can enjoy year-round sunshine, fresh tropical cuisine, and the chance to swim with magnificent marine life in sheltered coves safe for all abilities. When they aren't beachside or relaxing at one of the island's luxurious resorts, take advantage of the excellent duty-free shopping, explore historical landmarks like Fort Christian, and walk the vibrant 18th-century step-streets whilst taking in the eclectic architecture.
5. Sedona, Arizona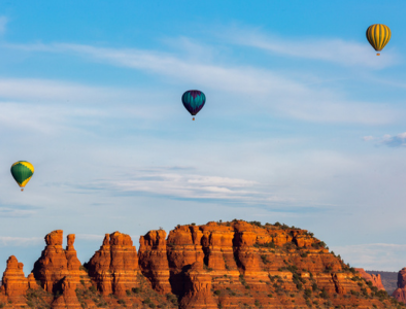 Famous for its towering crimson rock formations, framed by a backdrop of blue skies and desert juniper forests, Sedona is an enchanting destination guaranteed to take your breath away. A haven for lovers of outdoor adventure, your team can enjoy horseback rides through the winding trails, take an exhilarating Jeep tour, or discover ancient ruins. You can even play an unforgettable 18-holes at a top golf course with panoramic views or soak in the Slide Rock swimming hole - one of the best in the USA.
As a 'vortex site,' Sedona is said to facilitate healing, and spiritual renewal, and is a hotbed for wellness trends. It has everything from yoga to healing massages or having your aura photographed, and there are a host of world-renowned resorts to choose from for the ultimate restorative trip. For a truly unmatched experience, treat your team to a hot air balloon ride over Red Rock country at sunrise.
Group Charter Solutions for Business Travel
With over 60 years of experience and an expert Group Charter team ready to manage everything from the most intricate itineraries to the finest of details, travelling with Air Partner ensures seamless luxury no matter how big or small your group is. As well as providing the ultimate flexibility and comfort, we pride ourselves on delivering a stress-free private jet service. You will benefit from the expertise of a dedicated account manager who, as well as assisting with logistics and timings, can organise VIP lounges, personalised catering, and aircraft branding and help to bring all your ideas to life – guaranteeing you leave a lasting impression on your guests.