Picture yourself soaring over turquoise waters and arriving in a tropical paradise in the utmost comfort and privacy to celebrate and savor the holiday season. 
Surrounded by pristine beaches, warm waters, and unforgettable island allure, the 'Saints' islands are the perfect destinations for those seeking to escape to a warmer climate during the winter season. With your private jet charter, you can easily travel from one Caribbean island to another without any worries or delays.
Starting The Festivities in Saint Kitts
Flight time from Teteboro (TEB), NY to Robert L. Bradshaw International Airport (SKB), Saint Kitts: 3 hours 48 min
Recommended aircraft: Hawker 800XP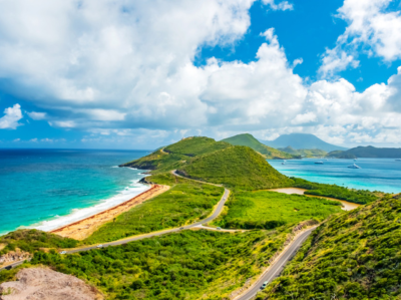 After a cozy flight nestled amidst the luxury of your private jet, be prepared to step into a sunny haven that contrasts perfectly with the white winter landscapes back home. 
Our first stop is Saint Kitts. Expect an island draped in verdant mountains, elegant hotels, and captivating golden beaches - South Friars Bay, Cockleshell Bay, and Banana Bay are our top recommendations.
This peaceful island invites you to step away from the crowds and relax. Dive or snorkel amongst shipwrecks and stunning coral reefs, then head to the beachside shack bars and soak up the charming, local ambiance.
Jetting off to Saint Eustatius
Flight time from Robert L. Bradshaw International Airport  (SKB), Saint Kitts to F. D. Roosevelt Airport (EUX), Saint Eustatius:  22 min

Recommended aircraft: Citation CJ3
Saint Eustatius, also known as Statia, is up next. Part of the Caribbean Netherlands, this is the perfect stop for those seeking peace, tranquility, and untouched natural beauty.
Hike to the Quill, an extinct volcano, to discover an inner rainforest. Divers are drawn here to explore vibrant marine life at one of the Caribbean's top scuba destinations - home to underwater volcanic formations, diverse coral reefs, and a variety of marine life.
Now, we're off to Saint Lucia
Flight tim

e from F. D. Roosevelt Airport (EUX), Saint Eustatius to Hewanorra International Airport (UVF), Saint Lucia: 1 hour

Recommended aircraft: Hawker 400XP
Famous for its volcanic beaches, reef-diving sites, luxurious resorts, and fishing villages. Winter is the dry season, offering comfortable temperatures for sunbathing and outdoor activities.
Visit the striking Piton Mountains, with incredible hiking trails and breathtaking sunsets—as well as luxury retreats, spas, and resorts with panoramic views and personalized services.
Up next, Saint Vincent and the Grenadines
Flight time from Hewanorra International Airport (UVF), Saint Lucia to Argyle International Airport (SVD), Saint Vincent: 30 min

Recommended aircraft: Phenom 300
Encompassing the main island of Saint Vincent and a chain of smaller islands, the nation offers unspoiled beaches, secluded anchorages, and fabulous diving opportunities. Our top recommendations are Indian Bay Beach, Villa Beach, and Dark View Falls Beach.
Stroll through Kingstown, the capital city, and visit architectural sites such as its 19th-century churches, Fort Charlotte, and the St. Vincent National Museum. And why not charter a luxurious boat to explore the Grenadines Cays for a day?
The three sister saints, US Virgin Islands
Flight time

from Argyle International Airport (SVD), Saint Vincent to Cyril E. King Airport (STT), US Virgin Islands: 1 hour 18 min

Recommended

 aircraft: Citation XLS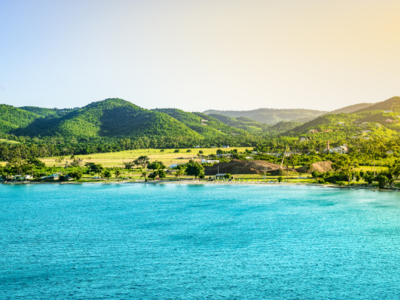 Saint Thomas blends urban excitement with relaxation, boasting emerald hills, powder-white beaches such as Magens Bay, world-class diving spots, and upscale shopping venues.
While Saint John epitomizes the serene and untamed beauty of the Caribbean with its virgin forests, hiking trails, and white-sand beaches. Trunk Bay is home to stunning coral reefs, and a renowned snorkeling trail is a must-visit destination. 
And let's not forget Saint Croix, which offers visitors a glimpse into the past with its colonial architecture, historic sites, and cultural attractions. If you visit in late December, you can experience the Crucian Christmas Festival, a tradition since the 1800s. Here, you can listen to live music that ranges from Latin to reggae beats, watch colorful parades, and taste incredible local flavors like conch fritters, johnnycakes, and seafood dishes.
A Tropical Christmas in Saint Maarten
Flight time from Saint Vincent to Cyril E. King Airport (STT), US Virgin Islands to Princess Juliana International Airport Airport (SXM), St Maarten: 42 min
Recommended aircraft: Citation CJ2
Next, we journey to the exquisite St. Maarten or St Martin. Known for its cultural mix, boasting 120 nationalities living in harmony, St. Maarten will introduce you to a captivating blend of Caribbean and European flavors. After dinner, stroll down the Great Bay Promenade to witness the fascinating holiday light displays.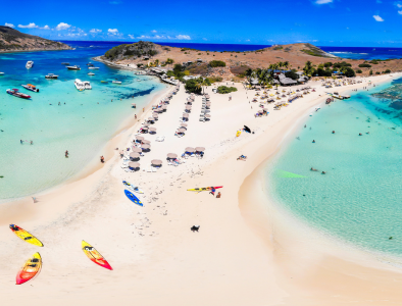 The island is recognized for its vibrant Christmas celebrations. Amidst the brightly colored Caribbean houses, the island takes on a new shine during Christmas with fantastic decorations, grand feasts, and merriment that echoes throughout the land, such as Christmas-themed parades, concerts, and many other celebrations.
You can't leave without indulging in a relaxing dip in St. Maarten's famed warm waters, such as the famous Maho Beach - nothing says 'Holidays in Paradise' quite like it.
New Year's Eve in Saint Barts
Flight time from Princess Juliana International Airport Airport (SXM), Philipsburg, St Maarten to Gustaf III Airport (SBH), St Barts: 10 - 15 min
Recommended aircraft (Turbo Props): Pilatus PC-12
As the final days of December roll around, it's time to make your way to the spectacular island of St. Barts via your private charter. There is a thrilling transition in the air from the casual, warm spirit of St. Maarten to the more sophisticated and lively ambiance of St. Barts.
New Year's Eve in St. Barts is famous for its glitz and glamour. Spend the last day of the year strolling along the white sandy beaches, then get ready for the night's renowned festivities.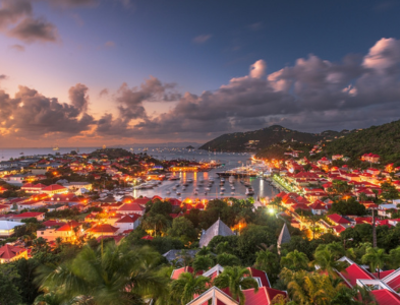 Celebrations usually begin on the yacht-lined harbor with stunning firework displays at the stroke of midnight above Fort Oscar. Enjoy from your private yacht or mingle with the stylish crowd in chic clubs for live music and incredible entertainment. Alternatively, you can choose to celebrate New Year's in the privacy of your own villa or rent a restaurant for an intimate setting with the flexibility to create your own grand celebration.
Ringing in the new year in this little slice of paradise certainly adds a sparkling start to the journey ahead. When it's time to return, let the memories of sandy Christmas mornings and the elegant New Year parties accompany you on your comfortable and stress-free flight home.
Private Jet Charter with Air Partner
Fly home feeling refreshed and ready for new beginnings with Air Partner. The convenience and comfort offered by our private flights add the finishing touch to a fantastic holiday season. Bidding goodbye to one year and welcoming another amidst the sun-kissed Caribbean waters will undoubtedly be an experience worth cherishing.  
With its year-round sunshine, the Caribbean is the perfect place to escape whenever you need a break, no matter the time when you decide to travel. For more advice or information on private jet charter flights to the Caribbean, contact our private jets team today, and they will be happy to assist with your next getaway.