When corporates need to make travel arrangements for large groups flying between cities or venturing internationally for meetings or frequent business purposes, charter provides flexibility and convenience.
As there is currently a need for multi-city travel and accessing frequent city pairs, having a dedicated corporate aircraft can be particularly beneficial, providing flexible scheduling. Popular shuttle routes for business travel include New York to Washington, Boston to San Francisco, Los Angeles to Atlanta, Chicago to Los Angeles, and more. Beyond spoke cities, flights across the Gulf Coast, trans-Atlantic and international shuttle routes are often requested, with destinations such as Mexico or Europe. From the UK or Europe, flights can be arranged to Middle East or Asia. Additionally, our team charters flights to remote destinations which may have limited or no access via commercial methods.
Based on the number of passengers and routing needs, aircraft selection is important to properly accommodate your group. Here are a few aircraft used for flying from point to point, whether shorter  distances or medium to long haul. 

Airbus A319LR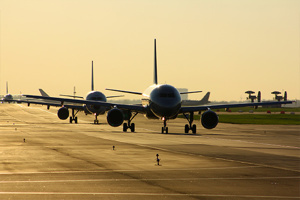 Range: 5178 miles
Seating: 48 or 102 passengers
Recognized by its shorter fuselage in the Airbus 320 family, the longer range version of the standard Airbus A319 is a great aircraft choice for a transatlantic corporate shuttle. Traveling over 800 miles more than the standard A319, the A319LR is equipped with additional fuel tanks, perfect for intercontinental city-to-city flights. A popular option for corporate travelers going between cities, the cabin is best fitted with 48 executive seats that recline with spacious legroom and overhead bins. For a larger group traveling medium haul, 110 seats configuration is also possible. This Airbus model is capable of a rapid medical air evacuation.
Embraer ERJ Series: ERJ 135ER / ERJ 145XR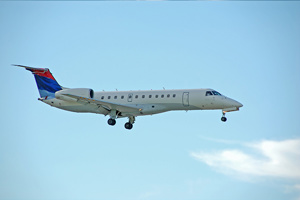 Range: 2013 miles / 2301 miles
Seating: 37 passengers / 50 passengers
The long range ERJ series aircraft are narrow-bodied and sleek, delivering high turbo-prop performance. Sitting three across in the typical cabin configuration, these aircraft equipped with overhead storage for convenience along with multiple galley configurations where you can host custom catering on board.
The ERJ 135ER has a cruise speed of M 0.78, with is a dual configuration for either 30 or 37 seats. The ERJ135ER flies an additional 450 nautical miles (at max seating capacity) than the baseline ERJ 135 model.
The largest in the ERJ series, the ERJ 145XR is the extra long range aircraft and seats 13 more passengers and flies an additional 250 more miles. A longer aircraft (with more takeoff weight and fuel capacity than the ERJ135ER) travels at a cruise speed of Mach 0.8.
Bombardier Challenger 850 CS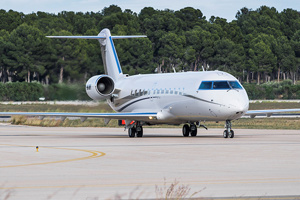 Range: 2443 miles
Seating: 50 passengers
Based on Bombardier's CRJ200, the Challenger 850 is available in a corporate shuttle configurations: 30 first class seats or 50 commuter seats. At it's max capacity the Challenger 850 CS has a shorter range than the Challenger 850 CS ER. The cabin can be three zone configured, with two washrooms, galley, accessible baggage storage area; depending on the configuration, a separate area can be used as a lounge or meeting area.
Bombardier CRJ-200LR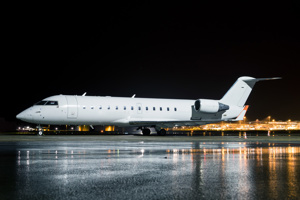 Range: 1824 miles
Seating: 50 passengers
For taking groups coast-to-coast, the CRJ 200 is perfect for corporates, or even sports teams. The longer range CRJ-200 offers greater efficiency than its predecessor CRJ 100 and better performance for accessing more challenging airport runways. The 2x2 configuration offers 50 coach seats. The CRJ200 offers exceptional air quality with 100% non-recycled, fresh air and a quiet cabin.
Dornier 328

Range: 1700 miles
Seating: 30 passengers
The Dornier 328-100 was especially designed for short range flights. The twin turbo-prop aircraft has a distinct shape, designed for a high cruising speed with a spacious interior. The pressurized cabin with low-noise gives it an atmosphere of a larger passenger aircraft. Ideal for chartered company travel, the three-abreast cabin configuration (with ten rows of 3 seats) can seat up to 30 passengers, with a separate cargo space for baggage. Also used as an air ambulance, there is a medical evacuation aircraft configuration, with space for 4 medical litters or rescue baskets. While the model is discontinued, along with the Dornier 328JET longer-range variants, they are still available for charter. The Dornier 328 jet has a high cruise speed and considerable climb. The aircraft can sometimes be used for cargo.

Fokker 100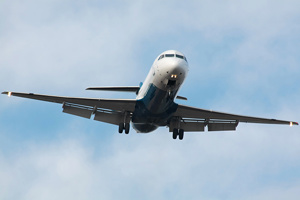 Range: 1678 miles
Seating: 109 passengers
While there may only be a few flying nowadays, this medium sized jet was intended for short-range travel, the Fokker 100 isknown for versality and cost-efficiency, the Fokker 100 has the "lowest seat mile costs in the 100 seat market". A typical seating arrangement has 100 seats with 2 abreast or 109 with 3 abreast seating. The Fokker100 cabin has a spacious overhead bin, and cabin configurations include 3 washrooms and hot galleys. Fokker 100 has emissions below below ICAO CAEP/4 limits and low exterior noise output.
Our air charter experts assist our customers with detailed flight planning. Get in touch for aircraft recommendations for your trip. Inquire now