As part of our content series focused on well-being, Erica Merrill, Director of Business Development at Air Partner, weighs in on the health risks commonly associated with business travel and provides valuable insights about private aviation as a solution for corporate travel managers and companies to alleviate the concerns and stressors of their frequent travelers who fly for business.
Business travel as a health risk?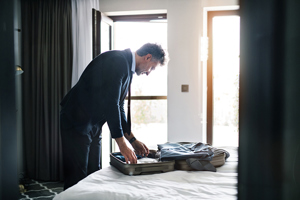 Even in the post-pandemic age of remote work and video conferencing, business travel remains an essential tool across many industries. A survey by the Global Business Travel Association has found that more than three-quarters of corporate travel managers expect an increased number of trips in 2023 than in 2022. But for employees, business travel can also be a health risk: derailing natural rhythms, disrupting work-life balance, and weighing heavily on mental and physical wellness.
The result? Travel managers in the know are expanding their services beyond the required traveler safety requirements and minimal layover times to now account for employee wellbeing. As a global player in private aviation, Air Partner is well-positioned to be part of the equation.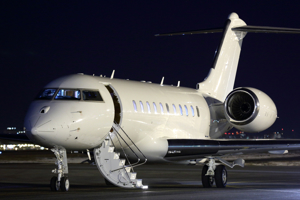 We provide customized private jet charter solutions that minimize the mental and physical stresses inherent to business travel in ways that are unattainable in the commercial segment of aviation.
"We're starting the conversation to let companies know that private aviation benefits employee wellbeing and can assist corporations looking to invest and implement a duty of care program that accounts for far more than just flight disruption," said Erica Merrill, Director of Business Development at Air Partner, whose unique experience includes both managing corporate travel accounts and operating a wellness business.
The impact of business travel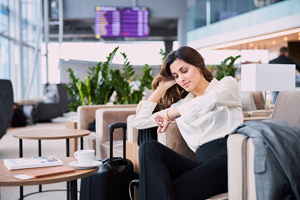 Like the road itself, the disruptive elements of business travel go on and on. Merrill, once a "road warrior" herself with a demanding schedule, cited sleep deprivation, low-quality nutrition, dehydration, lack of exercise, and even social isolation leading to loneliness. The latter was recently categorized by the U.S. Surgeon General as an 'epidemic' with health risks comparable to those of daily smoking – among regular hazards for business travelers.
There are hazards for businesses, too. Pre-pandemic, a study by the Airlines Reporting Corp. examining trip success, attrition, and retention found that business travelers who spent at least 35 nights away from home and took at least four trips by airplane over 12 months put the chance that they would resign over the following two years at 24%.
More recently, a 2022 survey of 500 UK business travelers by World Travel Protection found 81% had experienced negative emotions on work trips, including stress, anxiety, loneliness, and jet lag-induced exhaustion, and that just over three-quarters of those surveyed said such emotions affected their performance.
Improving efficiency with private charter flights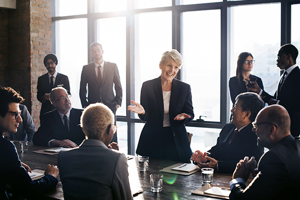 "The time that high-level executives spend traveling is worth a lot of money, so it makes sense for their companies to utilize the fastest, most convenient, and comfortable means to get them where they need to be," said Merrill, pointing to how Air Partner's aircraft charter services can be choreographed to eliminate the dead space of time-consuming airport connections and offer a range of aircraft arranged for work – "even group meetings" – beyond what can be expected in cramped economy-class seats on commercial flights.
"That means less time traveling, and more productivity along the way," she concluded, adding that some companies are even utilizing the proposition as a tempting recruitment tool. "Less time working on the road means less stress and more time at home with family and friends. What executive wouldn't appreciate that?"
Learn more about our Corporate Travel Solutions for your business flights. Consult with an Air Partner specialist to discuss options for your private charter flight arrangements today.