The Beechcraft King Air 200 aircraft is one of the most cost-effective aircraft on the market. This twin-engine turboprop is ideal for short-haul flights for groups of up to 8 passengers - depending on the seating configuration - and is often used for business travel and express freight delivery, as well as being purposed as military aircraft.
With the ability to operate on shorter runways, the King Air 200 can fly into and out of smaller airports that may not be accessible for Jet aircraft, allowing you to get closer to your destination. Many King Air models have recently been refurbished by operators, upgrading the aircraft cabin to ensure they are kept modern and stylish and offer greater passenger comfort. Recently announced, the King Air 200 will be extended with the upcoming King Air 260 model.
With a pressurized cabin, the King Air 200 can cruise at up to 28,000ft but do fly slower than a Jet aircraft so slightly longer flight times can be expected. We recommend the King Air 200 for routes of within 02 hours 30 minutes, making shorthop intra-US destinations and trips to the Caribbean and Central America or northern South America. The B200 is great in icier, rugged climates, the B200 has also been known for use in the Great Lakes Regions or colder mountainous areas like Denver and the Colorado Rockies. The B200 is also a popular choice for accessing coastal islands of New York, Massachusetts and California, flying to popular summer spots like Martha's Vineyard, Nantucket, Block Island, Santa Cruz and Catalina islands.
Similar jet comparisons on the market include the Citation CJ2 or Citation Bravo, but the King Air is often more cost-effective over a Jet option. And with more recently upgraded models of the King Air now available for charter including the B200GT and B350 models, both of which offer improved performance and increased range, the King Air is a great charter option.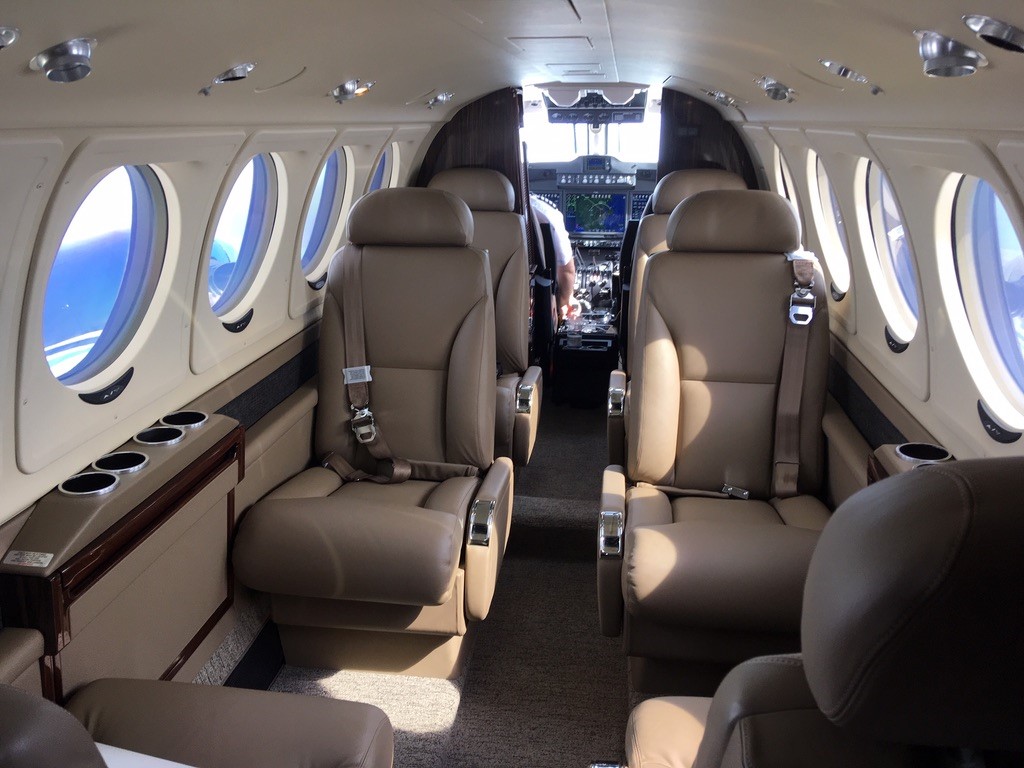 Key aircraft features:Aircraft range: 1,200 nm
Maximum speed: 280 knts / 320mph
Cabin Length: 16 ft 08 in
Bathroom facilities: Lavatory
Passenger capacity: Up to 8 (depending on seating configuration)
Baggage capacity: Up to 8 assorted items (depending on passenger load)
Contact us if you would like more information about the King Air or would like to get a quote.