If you desire a bit of exploration or in need of true relaxation, here are a few exotic destinations with golfing, sailing, and never-ending ocean views you can plan on flying to for springtime getaway. As destinations around the world look to ease COVID-19 travel restrictions, and the expectation to reopen borders to travelers for spring and summer, our Private Jets team can help you plan your upcoming flights with peace of mind. We provide the most personalized air charter services with 24/7 support, so you can travel confidently anywhere in the world.
---
St. George's Island, Bermuda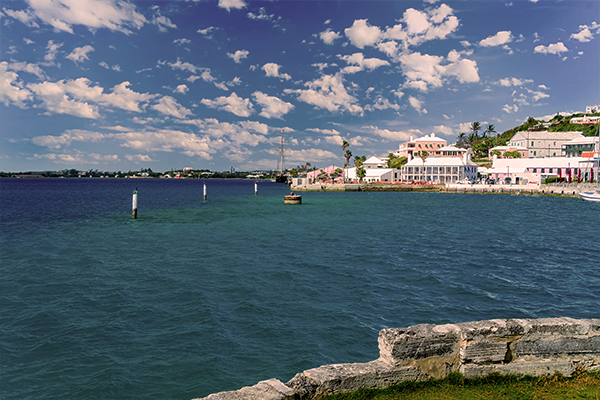 A timeless treasure
Originally one of the first British settlements of the Americas, this historic St. George is a transcendent colonial town setting. As authentic as it gets, the East End brick streets and architecture is where Bermuda begun. Mostly accessible by foot with virtually no traffic, you're likely to get their steps in for the day as you wander the picturesque streets.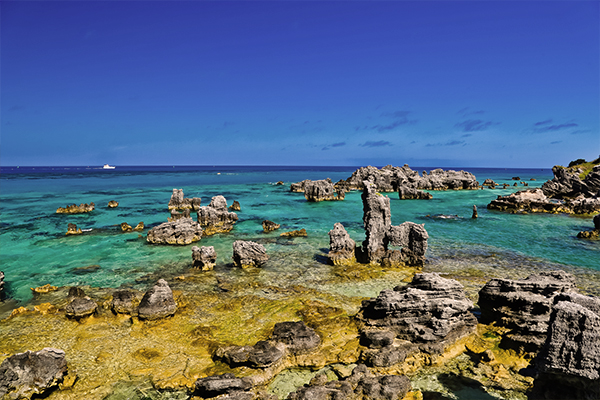 Sail Superyacht charters ahoy. Anchor down at St. George's Harbour and enjoy the view and the fresh ocean breeze, hinted with lavender and jasmine aromas. Sail over to St. David's Island
Golf St. George's Golf Course. While you're on the northern side, sightseeing and exploration musts include Tobacco Bay to Fort Saint Catherine.
Flying privately to St. George's, Bermuda
Fly by private jet to L.F. Wade International Airport (BDA) from the Americas, United Kingdom or Europe.
Flight time to St. George's…
From New York est. 2 hours on a light to midsize jet
From London est. 7 hours 25 minutes on a global jet
---
Kamalame Cay, The Bahamas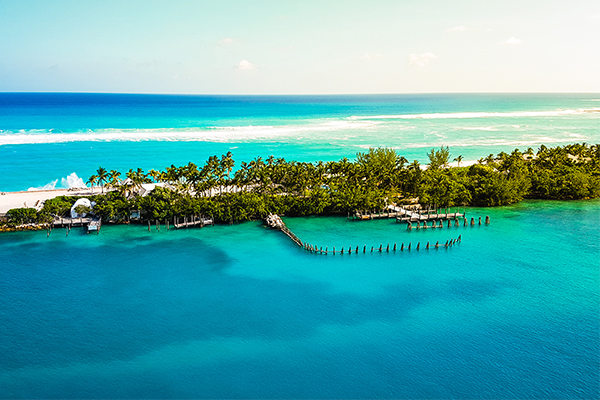 A warm hello
Kamalame Cay is a 97 acre private island sitting just off the Andros Great Barrier Reef- the largest and least developed landmass in the Bahamas archipelago (and second longest barrier reef in the world). Kamalame's style and elegance make it an idyllic destination for weddings and special celebrations. You can even buy your very own beachfront villa should you want to call it home. The coastal waters around the Kamalame island offer some of the world's best snorkeling and diving.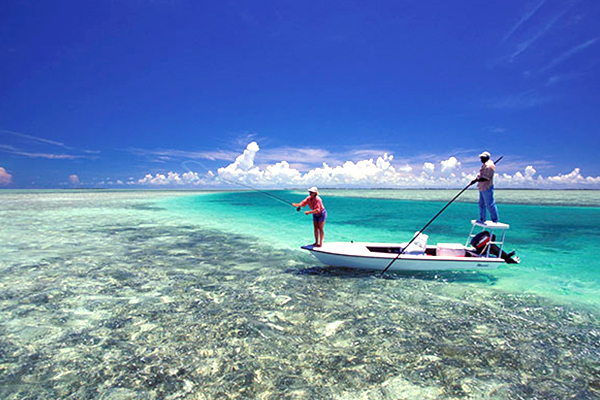 Sail Private slips make the island accessible for sailing or yachting around the turquoise Bahamian coast. Marina services and docking amenities are available at Morgan's Bluff in North Andros, the nearest refueling site. While on the water, you may even enjoy the Bonefishing sport that made the island famous.
Golf While there isn't any golfing in Kamalame, explore the island by golf cart when you're not relaxing in the world-class spa. You can always set sail and dock at Great Harbour Cay to play at John Lee-design 9-hole golf course, accessible to all Great Harbour marina guests. Or get to the Berry Islands by helicopter.
Flying privately to St. Croix, USVI
Fly by private jet to Henry E Rohlsen Airport St. Croix (STX) from the Americas, United Kingdom or Europe. Also, fly from Cyril E. King Airport in St. Thomas (STT) to St. Croix.
From New York est. 4 hours on a light to midsize jet
From London est. 8 hours 25 minutes on a global jet
---
Petit Saint Vincent, Grenadine Islands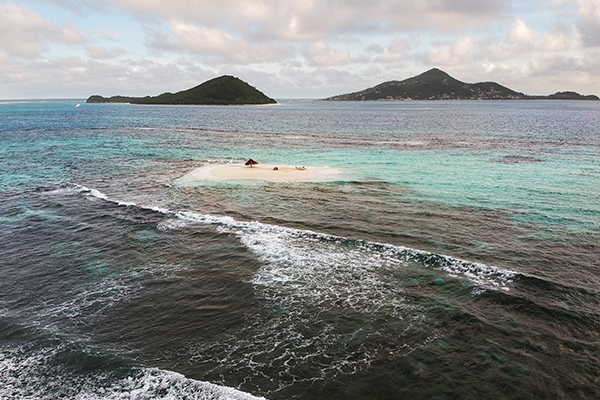 Off the grid existence
The southernmost of the Grenadine islands, Petit Saint Vincent is a coveted West Indies getaway with lushly forested hills and beaches on both Atlantic and Caribbean Sea. Born from a volcano, this private islet spans only about 115 acres. It's Idyllic beauty simply cannot be ignored. After all the work-from-home, you'll enjoy the unplugged attitude of PSV.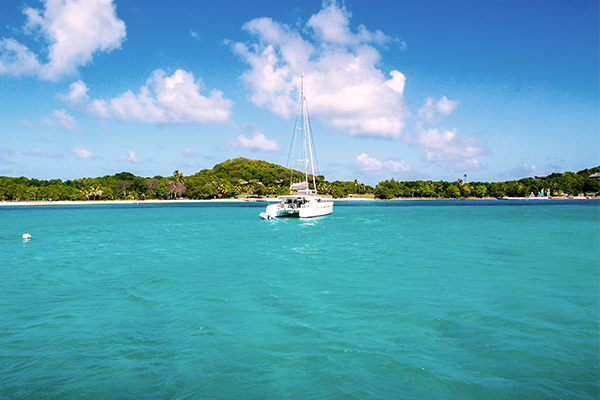 Sail There's a reason PSV tops the escape list for any one wishing for a quality sea time getaway. Charter a boat to the uninhabited Tobago Cays where you can cruise around and own the oceans and snorkel the islands with family.
Golf A chartered flight or a 45 minute boat ride from Saint Vincent's airport, Canouan Island's 18 hole golf course is a wonderful challenge with a view of the neighboring Grenadine islands. The Canouan Estate Golf Course is designed by Jim Fazio, and named as one of the best golf courses in the Caribbean and world, featuring 305 yard par 3, making it one of the longest anywhere.
Flying privately to Petit Saint Vincent
Fly by private jet to Canouan Island Airport (CIW) from the Americas, United Kingdom or Europe.
Flight time to Petit Saint Vincent…
From New York est. 4 hours 35 min on a light to midsize jet
From London est. 10 hours 16 min on a global jet
---
San José del Cabo, Mexico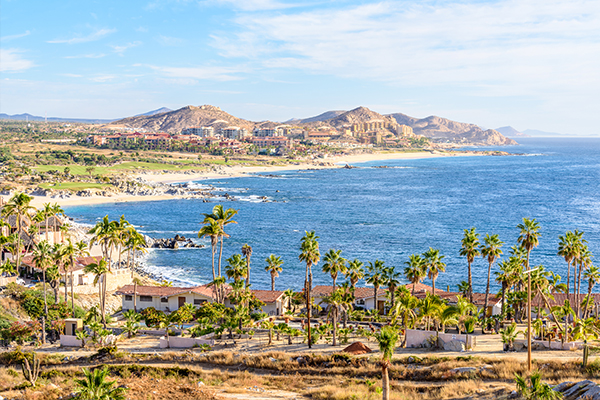 The sophisticated sister
Opposed to the wilder and widely popular Cabo San Lucas, the sister town San José del Cabo exudes laidback elegance in Baja Californian Sur resort city Los Cabos. Located just south of the airport, with ultra-luxurious (adult-only) resorts. As you walk the Plaza, explore boutiques, bars, and Baja fare. If you're more of spectator, you'll admire the art galleries galore, as well as the stunning Sea of Cortez from a private balcony at Solaz Casa.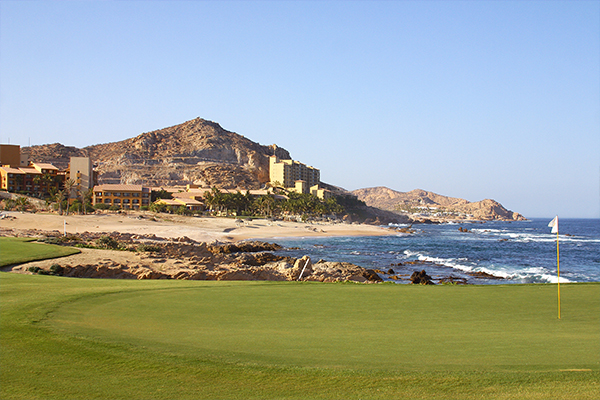 Sail Luxury day sailing on a privately chartered yacht is the perfect way to bring in the sunset on the marvellous rock formations of Los Cabos . During whale migration season (December to April), charter a catamaran for the ultimate whale-watching lookout for Humpbacks and Gray Whales making their way south.
Golf Jack Nicklaus' first signature golf course in Latin America, Palmilla Golf Course is a seaside 27-hole golf course with breathtaking vistas, located at One&Only Palmilla resort.
Flying to San Jose del Cabo
Fly by private jet to from the Americas, United Kingdom or Europe.
Flight time to San Jose del Cabo
From New York est. 5 hours 20 min on a midsize to super midsize jet
From London est. 12 hours on a global jet