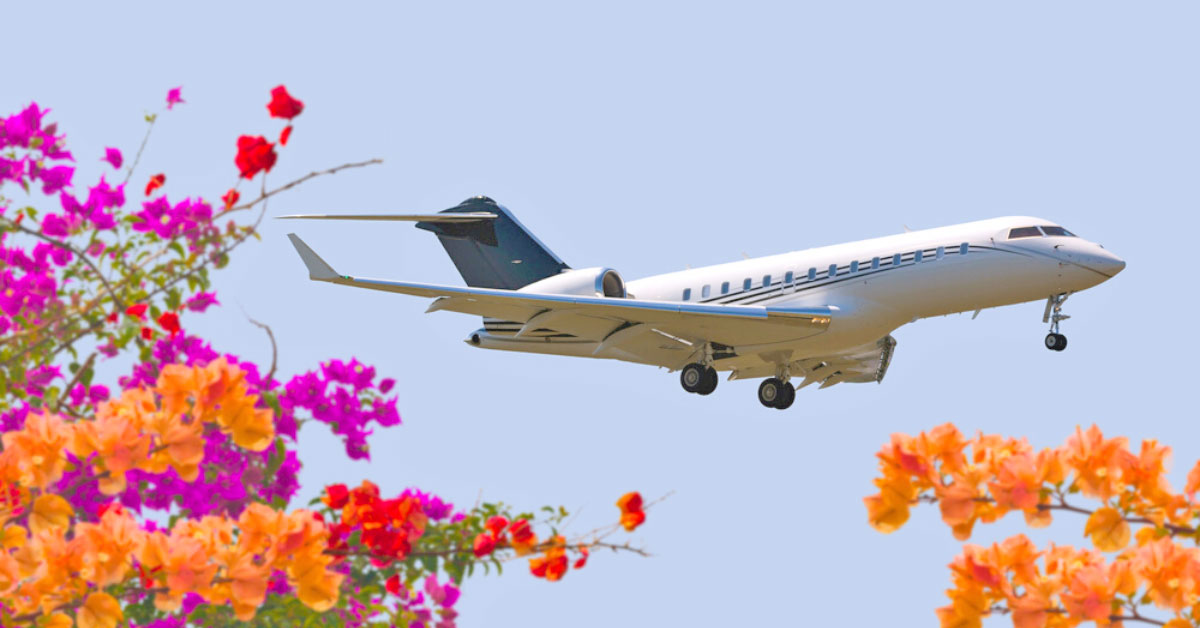 Spring is all about renewal and rejuvenation, and there is no better way to celebrate its arrival than travelling to extraordinary locations. We highlight remarkable spring destinations where you can explore tropical paradises, whet your appetite with flavourful foods, surround yourself with blooming gardens, or even take a last-minute ski trip.
---
1. Belize, Central America: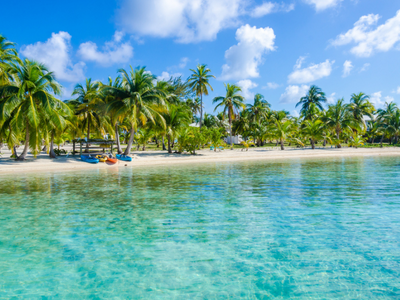 What better way to find the perfect spot to holiday than island hopping by private jet through Belize?
With over 400 cayes, Belize has an island for everyone. From relaxing in your secluded cabana, exploring Mayan ruins, and scuba diving in the Great Blue Hole, every caye will exceed your expectations. Travelling by private jet offers you the freedom to fly from spot to spot during your spring getaway. Get a seaside massage on Caye Caulker and then take a short 15-minute flight to dine by candlelight in Ambergris Caye. Why pick if you can experience it all in a day?
Spring is one of Belize's best seasons, with temperatures ranging from 75° to 85° F. During the dry season, you'll enjoy sunny days without high humidity or rain.  
Nearest Airport:  Philip SW Goldson International Airport (BZE)
Recommended Aircraft:  Gulfstream G-550
Flight time from Farnborough (FAB) by private jet: 11 hours
2. Amsterdam, Netherlands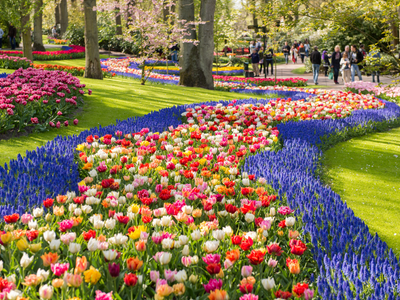 Flying by private jet means making the most out of your Dutch adventure. There's no better time to visit Amsterdam than spring. As the snow melts away, you'll find bright skies, cool weather, and countless radiant tulip fields.
April is the tulip blooming month, and it's also the time of the year with the greatest celebrations and festivals. Celebrate King's Day in the best way possible at the Prinsengracht Canal. Take a day trip to visit the Keukenhof Gardens of Lisse and immerse yourself in nature. There, you can rent a bike to ride along the paths of the garden, which will lead you to a scenic field of vibrant flowers.
Explore other neighbouring towns and villages featuring authentic Dutch architecture from traditional wooden windmills to historic castles. Also, don't leave Amsterdam without a true "gezellig" bruin café experience. The wonders of Amsterdam await you. 
Nearest Airport: Amsterdam Schiphol Airport (AMS)
Recommended Aircraft:  Embraer Phenom 300
Flight Time from Biggin Hill (BQH) by private jet: 50 minutes
3. Aruba: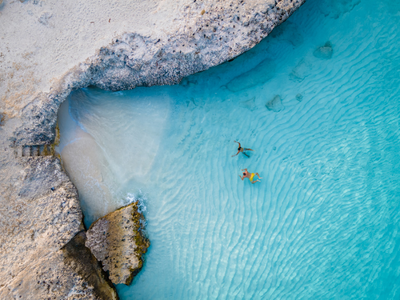 Located off the coast of Venezuela in the Caribbean Sea, Aruba is distinguished for its spring weather. Known as "one happy island", recharge in the white sand and crystal-clear waters while exploring remarkable sea life. For those looking for a more relaxed and romantic getaway, there's nothing better than an evening sailing on a sunset cruise with your loved one.  Fly to Aruba by private jet and be ready to be surprised by a world of wonder.
Nearest Airport:  Queen Beatrix International Airport (AUA)
Recommended Aircraft:  Global 6000
Flight time from Farnborough (FAB) by private jet:  9 hours and 40 minutes 
4. Tokyo, Japan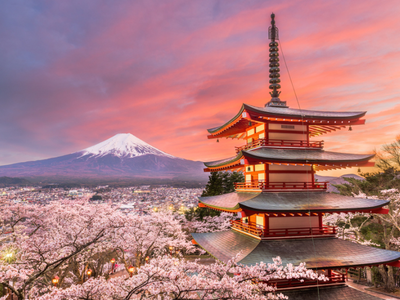 Tokyo is a floral delight for anyone who loves spring. The sunny weather means the arrival of sakura or cherry blossoms. Stroll through the different shades of pink at Shinjuku Gyoen National Garden and picnic underneath the cherry trees, an activity known as hanami. Your taste buds will thank you after trying fresh traditional seasonal delicacies such as bamboo shoots, Tochiotome strawberries, and special sakura foods and drinks. 
Take a day trip to Fuji Five Lakes to get a scenic view of the glorious Mount Fuji, from Chureito Pagoda, and connect with nature as the cherry blossoms feel like clouds almost reaching the sky. Also, the Tateyama Kurobe Alpine Route opens in mid-April for those who enjoy crisp, cool weather. 
Nearest Airport: Tokyo International (Haneda Airport) (HND) 
Recommended Aircraft:  Gulfstream G-650
Flight Time from Biggin Hill (BQH) by private jet: 11 hours and 10 minutes
5. San Sebastian, Spain: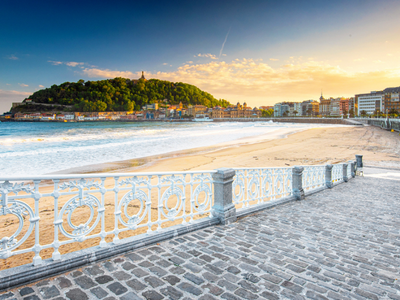 Located in the north of the Basque Country and on the southeastern coast of the Bay of Biscay, San Sebastian is one of Spain's most acclaimed spring destinations. The sunny weather is ideal for sightseeing. Take a relaxing hike to the top of Old Town and admire the bright tile colour of Playa de la Concha's coastline water.
When it comes to dining, no other city compares. San Sebastian is filled with world-renowned Michelin-star restaurants, known as one of the gastronomic capitals of the world, managed by state-of-the-art chefs whose specialities include pintxos, fresh seafood, and flavourful local dishes. And great news for spritz lovers, March is txakoli season, so you can spend the evening lounging on a rooftop bar accompanied by this iconic Basque effervescent white wine.  
Nearest Airport: San Sebastian Airport (EAS)  
Recommended Aircraft:  Citation Latitude
Flight time from Farnborough (FAB) by private jet: 1 hour 40 minutes 
6. Sun Valley, Idaho, USA: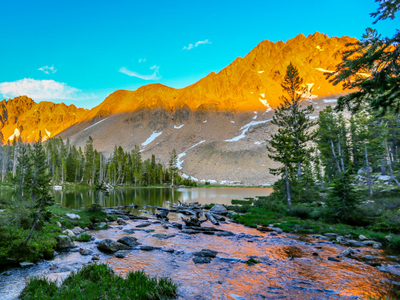 Although skiing might seem like a winter activity, all things are possible in Sun Valley during this seasonal transition. During the months of March and mid-April, you can still find great skiing and snowboarding conditions. Staying in a luxurious cottage or exclusive lodge allows you to experience the complete Sun Valley lifestyle and get first-hand access to Bald and Dollar Mountains where you'll be surrounded by jaw-dropping views. The Sun Valley hot springs are a perfect place to dip and relax after your adventure. Sun Valley's very own Friedman Memorial Airport is expecting record breaking numbers this spring and summer so book your private flights ahead of time.
Nearest Airport: Friedman Memorial Airport (SUN)
Recommended Aircraft: Falcon 7X
Flight time from Farnborough (FAB) by private jet: 9 hours and 45 minutes 
7. Puerto Vallarta, Mexico:
>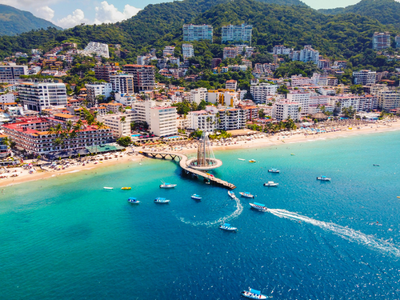 Puerto Vallarta is, undoubtedly, one of the best places to venture into Mexico. Situated on the Pacific Coast of Mexico, in the State of Jalisco, and surrounded by Banderas Bay, Puerto Vallarta's warm weather invites you to rejoice on the golden sand beaches, with crystalline freshwater, and breathtaking sunsets. Witness the most beautiful and exotic plants in full bloom at the Vallarta Botanical Gardens during the spring. In this city, there is a mix of modern and traditional Mexican culture. Luxurious villas and resorts coexist with cobblestone streets and historic landmarks. Elegant restaurants blend with street food vendors of popular Mexican dishes, such as street tacos and fresh seafood. Regardless of your itinerary, Puerto Vallarta will offer a memorable holiday for spring travellers. 
Nearest Airport:  International Puerto Vallarta Diaz Ordaz Airport (PVR) 
Recommended Aircraft: Falcon 8X
Flight time from Luton (LTN) by private jet: 12 hours
8. Marrakesh, Morocco: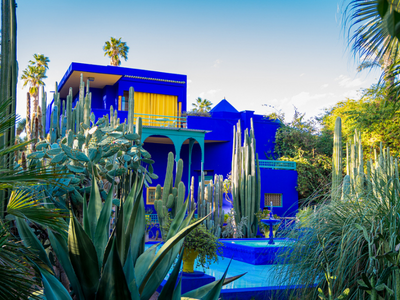 Boasting incredible architecture, mountains, and deserts, Morocco fits the bill for anyone who wants a true experience of culture and a taste for the exotic. Visitors in Marrakesh are drawn to exploring the diverse food scene, historic palaces and mosques, and museums. If you feel like taking a breather from the busier city, springtime brings perfect weather for outdoor activities. You can visit the spectacular Ozuoud falls or wander through the peaceful Jardin Majorelle Garden. And for a little more adventure, take a short flight to the Sahara Desert, where you'll be able to take selfies with incredible skies, dunes, and, at night, camels while trekking under the stars. If you're up for some sounds, Jazzablanca (June) is a 9-day international jazz music festival worth flying for, featuring musicians and artists from around the world. 
Nearest Airport: Marrakesh Menara Airport (RAK) 
Recommended Aircraft:  Praetor 600
Flight time from Farnborough (FAB) by private jet: 3 hours
9. Paris, France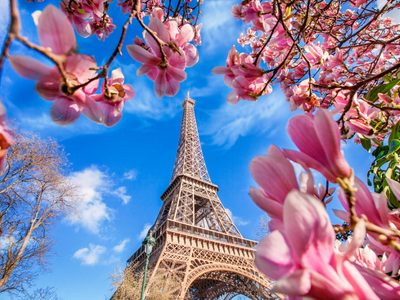 Travel to the capital of France in the most comfortable and relaxing way and live the spring Parisian dream. From trees wrapped in blossom to gardens planted with rows of tulips; Paris' springtime adds a splash of colour to the city. Soak up both in sunshine and culture in the sculpture gardens of Musee Rodin, home to many grandiose trees, vibrant flowers, and majestic plants. After you've grabbed a bite to eat at a cosy café terrace, indulge yourself with a 3-hour Saint- Germain chocolate and patisserie-themed walking tour. And make sure to bring along an additional suitcase - find yourself at the Avenue des Champs-Élysées to shop exclusive Parisian spring fashion.  
Nearest Airport: Paris Le Bourget (LBG)
Recommended Aircraft:  Nextant 400XT
Flight time from Biggin Hill (BQH) by private jet: 50 minutes
10. Dubai, UAE: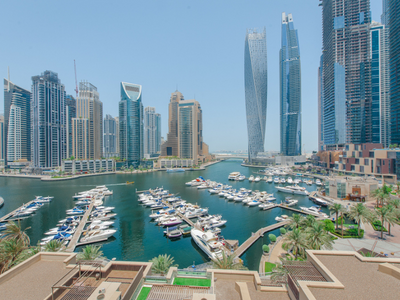 Dubai is a top choice for a more active spring break. Flying by private jet is the way to go when travelling to this ultramodern, glamorous city. During the spring, the weather is ideal for Dubai's famous yacht parties, beach clubs, and exclusive outdoor brunches. Shop the highest fashion at the Dubai Mall, one of the world's largest, featuring Max Mara, Chanel Beauty Boutique, and Saint Laurent.
No trip to Dubai will be completed without experiencing the Arabian Desert. We recommend a private helicopter transfer to explore the desert by dune buggy ride, G-wagon, or camel trekking. 
Nearest Airport: Dubai International Airport (DWC)
Recommended Aircraft: Global 5000
Flight time from Biggin Hill (BQH) by private jet: 6 hours and 30 minutes
For more information and the latest advice on travelling, contact our private jets team today.