On the Ramp with...
Joe Lacek: Cargo US Account Director at Air Partner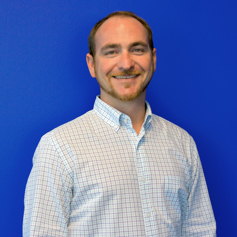 Whether you are looking to deliver oversized, hazardous, or highly urgent goods, our cargo charter specialists offer quick solutions for major industries worldwide. We ensure reliable cargo transport with direct support for your logistics, regardless of the time-sensitive or complex delivery. Today, meet the team who go above and beyond to deliver our clients the best service possible.
We are delighted to interview Joe Lacek, Cargo US Account Director. We discussed his time at Air Partner, the key industries he serves, and advice for companies and individuals looking to charter cargo aircraft. 
Can you tell us about your role at Air Partner?I work as a Cargo Account Director in the US team. My primary role involves coordinating the management of our sales accounts and also coordinating some additional administrative roles. As a sales representative, I oversee the entire process of cargo charters, from receiving client quote requests through contract and flight operations to the final offloading of the cargo at the destination. I also broker charters for both inside sales clients and my own clients with whom I have built relationships over time.
 What key industries do you serve?
Our key markets are Automotive, Oil & Gas, Humanitarian Aid, and Medical/Pharmaceutical. Recently, we have observed an increase in the Aerospace and Surface Mining industries.
Why did you choose a career in aviation? A long-time friend who was already in aviation recruited me into the industry. They had confidence in my potential and believed that I would enjoy it. As it turned out, they were absolutely right!
Nowadays, I enjoy the fast pace and the fact that each day and every charter presents a unique challenge. The charters that are particularly rewarding to me are those that help people, such as humanitarian aid and medical services.
How long have you worked in private aviation? I have been working in aviation for six years, but I have held logistics roles in all my previous jobs since graduating from university in 2008.
What is your favorite aircraft and why? 
The AN-124 is my favorite aircraft because of its imposing size and performance capabilities. However, the B747 freighter is an incredible workhorse that moves huge volumes all day, every day. The reliability of the global network of B747 freighters is hard to ignore.
What is the real strength of Air Partner? In my opinion, Air Partner's greatest strength is its people and the culture they have created. I have never been part of a team where so many people genuinely care about the service we provide, not just "the job." Also, the structural flexibility of being a non-asset-based charter firm is a significant strength when navigating today's ever-changing markets.
Tell us about your first charter. In my early days booking cargo flights, I mainly dealt with small part-charters of little consequence. However, my first full and most memorable charter was a significant one. It was a humanitarian aid charter for FEMA on an AN124 with Antonov Airlines to transport typhoon relief from Honolulu to Saipan. I was spoiled from the start. The cargo's noble cause and the aircraft's sheer magnitude made it one of the most memorable moments in my life. 
During your time working in aviation, what changes have you seen within Air Partner? I am proud to say that since I joined Air Partner in 2018, the company has experienced considerable growth both in size and global footprint. During my tenure, we have established numerous international and domestic offices and welcomed countless talented team members with tremendous skills and industry insight.
What is your philosophy for delivering exceptional service to your customers? And as a team leader, how do you pass this on?
When it comes to sales and brokering, I strongly believe in treating our customers and vendors better than we would want as clients. I strive for excellence when I am working on a client's behalf. As brokers, we are measured by the value we add to our client's lives or their company's bottom line.
I always try to inspire the same level of effort from everyone I work with, regardless of their position in the company hierarchy. I think this is why working with the people at Air Partner has been such a rewarding experience for me. There is a shared drive for superior service within Air Partner that is unique in the modern workplace.
What specific advice do you have for companies looking to charter aircraft? 
Our market can shift at lightning speed. I advise clients to clearly understand their requirements before entering the market. It's crucial to be prepared to act swiftly when the right opportunity arises. 
Unfortunately, I often hear from clients who missed a great opportunity to capitalise on the strengths of our cargo charter offering due to insufficient details or the inability to commit in a timely manner. We can always offer the best B or C option, but the difference is usually not as profitable as plan A.
What advice would you give anyone looking to charter an aircraft for the first time? 
My advice would be to be prepared for the unexpected. By nature, ad-hoc cargo charters are the most complex logistical endeavour in the cargo transportation world. The best way to prepare for the unexpected is to have a highly competent guide, such as Air Partner, to walk you through the challenging parts and support you through any difficulties.
Learn more about our Cargo services.