If you're looking to jet off to sunnier climes this winter, we explore the most popular winter sun destinations for 2020.
The Maldives
With its crystal water and white sandy beaches, the Maldives is the ultimate paradise. As well as offering some of the world's best beach resorts, the Maldives is the perfect place for some world-class adventure activities including diving, fishing, surfing, sailing and more.
There are around 200 inhabited islands in the Maldives, and each one offers a unique experience. Which island you choose is likely to depend on the type of holiday you are looking for. Some islands are perfect for diving and exploring the marine life, while others offer a more relaxed and private retreat.
Malé is the capital of the Maldives. It may be small but this capital offers ample of bustling amenities to immerse in, from local markets, miniature skyscrapers and mosques dating back to the 17th-century. Malé is the perfect place to sample some local delicacies and experience authentic Maldivian life.
The North and South Malé atolls offer some of the best dive sites. The warm year-round temperatures and pristine clear waters make for perfect diving conditions, with visibility sometimes exceeding 50 metres. The North Malé atoll is home to the Lion's Head and Wattaru Kandu dive sites, both of which are visited by reef sharks. While the South Malé atoll offers the opportunity to see manta rays, turtles, and the elusive guitar shark.
Some of the smaller and quieter atolls offer a more relaxed and private retreat. Baa atoll, is a UNESCO World Biosphere Reserve and is home to 75 islands, of which just 13 are inhabited. The tiny islands here are abundant with tropical greenery, white sand beaches, and the perfect choice for nature lovers, and those seeking peace and privacy.
London to Velana International Male (MLE)
Falcon 7X
4+ Passengers
Direct from £99,000*
Seychelles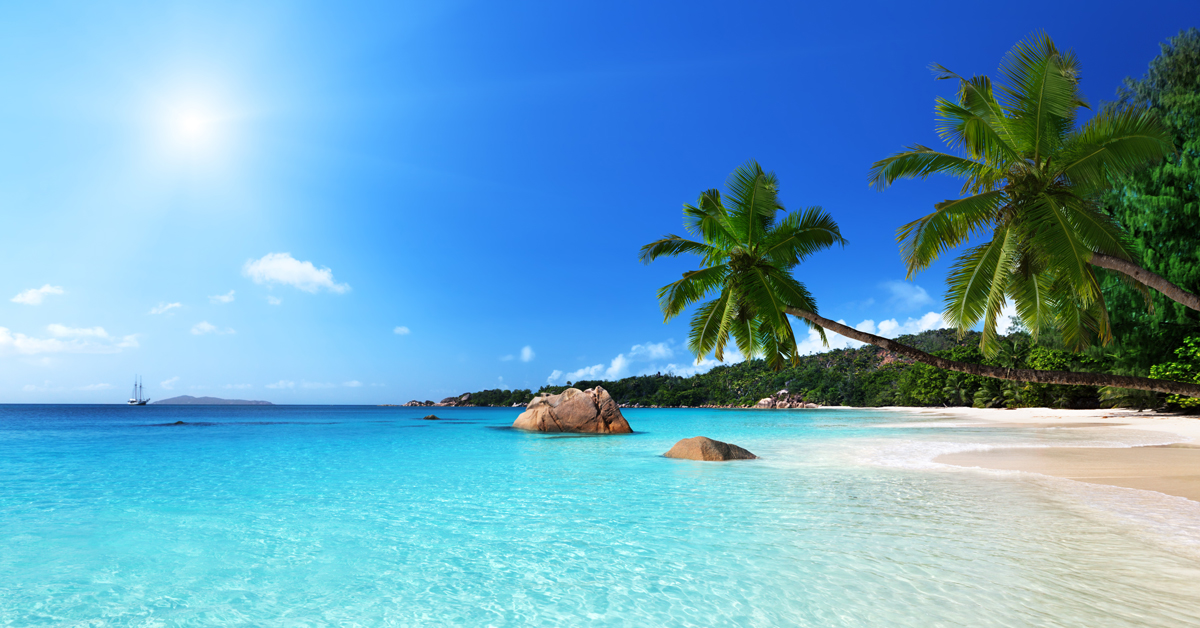 Nestled in the Indian Ocean and with temperatures averaging between 24C and 30C, the Seychelles is a popular choice when it comes to a winter sun getaway. Made up of 115 idyllic islands, the Seychelles is gifted with some of the world's most pristine beaches, and distinct flora and fauna. Here are our top island picks to visit.
The largest of all the islands is Mahe and is home to the capital Victoria. The capital is as busy and as bustling as the Seychelles gets, so soak up and enjoy the local atmosphere with the fresh-food markets, shops and eateries before venturing to some of the more secluded and quiet islands of the Seychelles.
Praslin is the Seychelles second-largest island and is famed for its gorgeous beaches, unique flora and fauna, and relaxed atmosphere. Anse Lazio and Anse Georgette are two gorgeous beaches. Lined with palm trees and granite boulders, the Anse Lazio is said to be one of the perfect settings for watching the sunset.
La Digue is home to one of the Seychelles most famous beaches, Anse Source d'Argent, with its blinding white sand and pristine waters. Easily reachable by boat, the main mode of transport on the island is on two wheels. Cycle past the vanilla plantations and watch out for the odd giant tortoise along the way.
London to Seychelles International Airport 
Falcon 7X
4+ Passengers
Direct from £95,000*
The Caribbean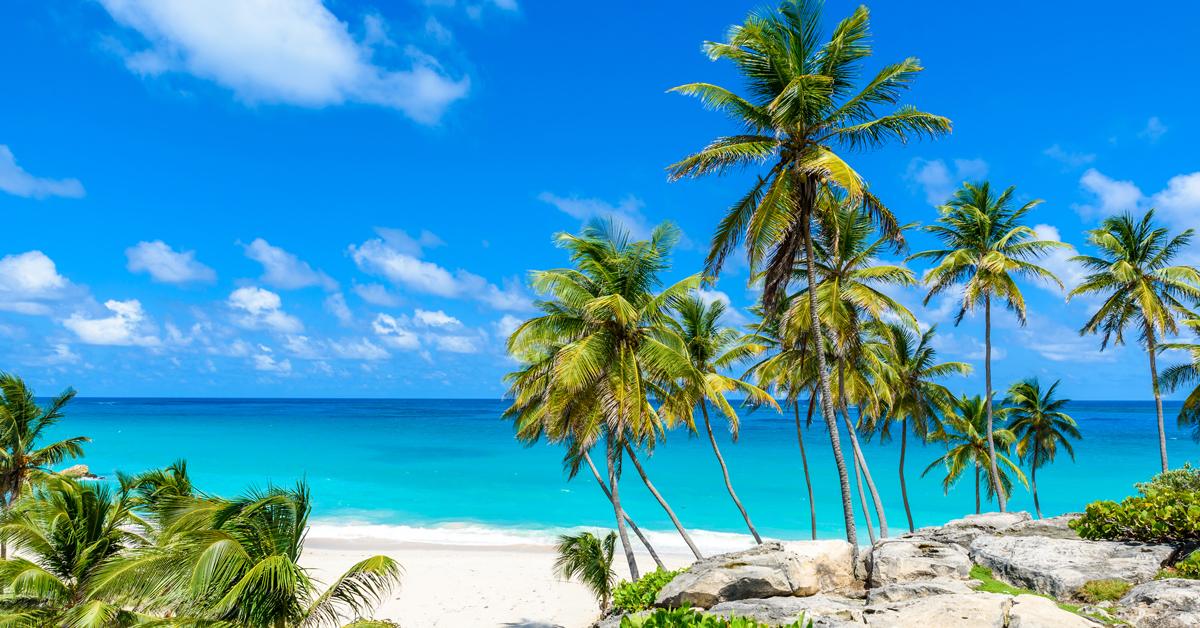 The Caribbean in winter makes for the perfect break away. With so many beautiful islands to choose from the hardest part is picking which one. From Barbados to Antigua, St Lucia to St Barths & St Maarten, these are some of the most popular destinations for private jet travellers during the winter months, and it's not surprising why.
Barbados
The island of Barbados is home to more than 92 kilometres of beautiful sandy beaches, lined with palm trees and surrounded by crystal blue waters. The western coast is a popular area of Barbados and is where the well-known resorts of St James and St Peter are located. Also known as the Platinum Coast, where you'll find 13-miles of pristine beaches.
London to Grantley Adams International – Bridgeton, Barbados
Global 6000
4+ Passengers
Direct from £80,000*
Antigua
The island of Antigua is known for its many idyllic reef-lined white sandy beaches, which has earnt itself the nickname the land of 365 beaches. If you head inland the magic of this beautiful island continues, with rainforest hikes, hilltop beauty spots and brightly coloured townhouses aplenty. Explore the fascinating history of Antigua including its oldest church and an ancient sugar plantation.
London to VC Bird International – St Johns, Antigua
Global 6000
4+ Passengers
Direct from £81,000*
St Lucia
An island that has it all. From jungles, volcanoes and secluded sandy coves, adventure awaits travellers to St Lucia. More than just your average Caribbean beach retreat, with its volcanic peaks, lush rainforests and multi-coloured waterfalls, there's something for everyone on this Eastern Caribbean island. And when you're done exploring the choice of luxury resorts are endless, from boutique hideaways set in secluded hills to hotels with their own private beaches.
London to Hewannora International – St Lucia
Gulfstream 500
4+ Passengers
Direct from £78,000*
St Barths & St Maarten
The small secluded islands of St Barths & St Maarten are home to an abundance of natural beauty, charm and attractions waiting to be discovered. The island of St. Barths boasts glorious white-sand beaches, a spectacular yacht-filled harbour capital with bustlingly high-end restaurants and cafes, as well as an abundance of historical attractions to explore. The island of St Maarten offers a distinctive ambience of its native settlement, with historic features including Fort Louis and Pic Paradis which is the highest point on the islands and has beautiful views to capture.
London to Philipsburg, St Maarten (Dutch part)
Gulfstream 500
4+ Passengers
Direct from £78,000*
Whatever sun-enriched island you choose to escape to this winter, contact us today and arrange your private jet charter to and from your winter retreat.
*Prices are indicative and subject to availability.
As governments around the world continue to review their guidelines during the coronavirus pandemic, including travel restrictions and quarantine requirements, our aviation experts are available to provide the most up-to-date advice and information on a country-by-country basis. Contact us today for the latest travel information.