From the spine-tingling streets of Salem, Massachusetts, to the vibrant and colorful celebrations of Oaxaca, Mexico, to the rich history Mont Saint Michel, France these destinations have something for everyone. Whether you have an insatiable appetite for history, culture, ghost tours, or delicious food, these cities are sure to captivate your imagination and leave you with unforgettable memories. Get ready to embark on a journey full of adventure, beauty, and spooky tales, and explore what each destination has to offer to create the ultimate fall travel experience!
1. Salem, Massachusetts, US:
Known as The Witch City in the United States, Salem is a colonial town filled with a rich history centred around the sinister Witch Trials of 1692.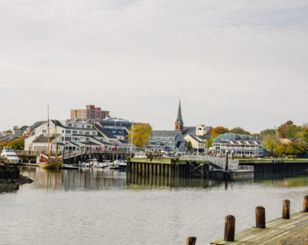 As you arrive in this charming town during the autumn season, make sure to capture the beauty of the red and gold foliage in your photos. Explore the local shops that are believed to offer products for spellcasting and potion-making.
Don't miss out on the Peabody Essex Museum, a hidden gem in Salem. This acclaimed art and culture museum has been ranked among the top twenty art museums in the United States, making it a must-visit destination for art enthusiasts. And, for architecture lovers, there are many historic houses in Salem, such as The House of the Seven Gables and Phillips House.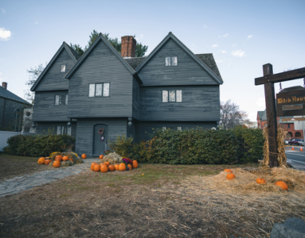 Additionally, if you're seeking a spine-chilling experience, take a 90-minute walking ghost tour to learn about the supernatural and see haunted sights in the historic town centre. You'll also visit the Salem Witch Trial Memorial and the Old Burying Point, the city's oldest cemetery.
Without a doubt, Salem is the perfect destination for supernatural enthusiasts. But don't be mistaken - this city has much more to offer. Whether your interests lie in art, architecture, witches, or history, an autumn getaway to Salem is an absolute must.
Recommended airport for private flyers: Beverly Regional Airport (BVY)
2. Oaxaca, Mexico: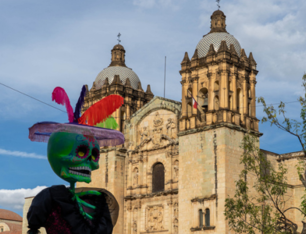 Oaxaca is a stunning destination to celebrate the traditional Mexican holiday of Dia de Los Muertos, also known as the Day of the Dead. This fascinating and colourful celebration offers a unique cultural experience, full of tradition and respect - a time to honour and remember deceased loved ones. The festivities start on October 31st, when the spirits return at midnight. The celebration continues on November 1st and 2nd. The city's vibrant decorations and lively atmosphere make it feel as if the entire city is embracing the essence of Muerto.
During the holiday season, stroll around the town and enjoy the sight of homes and businesses decorated with traditional flowers. The streets are filled with a delightful mix of flower aromas and the scents of traditional seasonal Oaxacan dishes such as mole, tlayudas, and pan de muerto. Keep an eye out for altar displays in public spaces, museums, and galleries to appreciate their cultural significance and creativity.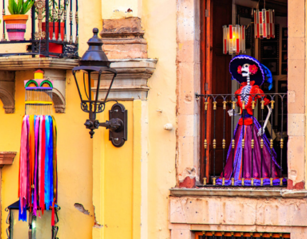 Experience lively parades with costumed participants, music, and dancing, and participate in the Calavera face-painting tradition. You can also visit traditional markets like Mercado Benito Juárez and Mercado 20 de Noviembre, where you can shop for classic Dia de los Muertos items—offering a variety of goods such as marigolds, candles, sugar skulls, and sand tapestry. 
During the Day of the Dead, you can explore the cemeteries in Oaxaca and nearby pueblos with authentic guided tours. These tours will allow you to learn about the local traditions. The cemeteries are illuminated with candlelight and decorated with yellow marigold flowers, which create an enchanting atmosphere.
If you're interested in street art, we recommend wandering around neighbourhoods like Jalatlaco during the Day of the Dead. You'll find a lot of street art, including pieces by renowned artists such as Bouler. You may even stumble across an artist in the midst of creating a large mural.
Recommended airport for private flyers: Oaxaca Xoxocotlan International Airport (OAX) 
3. St. Augustine, Florida, US:
St. Augustine is recognised as the oldest city in the US, known for its Atlantic Ocean beaches, such as the stunning St. Augustine Beach and the tranquil Crescent Beach, as well as its Spanish colonial architecture. The mild weather, minimal rain and humidity, and fewer crowds make it a great time of year to wander around the city's numerous shops and boutiques and enjoy cultural festivals and tours.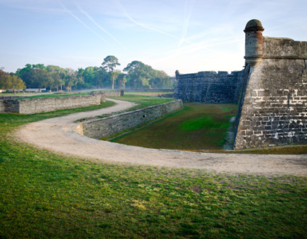 St. Augustine is also a fan favourite for historical and paranormal aficionados. Visit Castillo de San Marcos, a Spanish stone fortress from the 1600s. Stop in for a tour, thrilling history, and views of the St. Augustine Inlet. And while there, go on the iconic Pirate Ship, Black Raven. 
From October 7-29th, The Maze, an award-winning nine-acre maze at Sykes Family Farms, opens to the public. This corn maze is a challenging puzzle with a new design featured each year.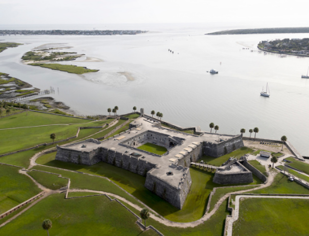 Lastly, a "frightseeing" tour is a must in this 500-year-old city. Embark on a trolley ghost tour to explore the eerie side of the 'Ancient City.' During the tour, you will visit spooky sites like the Chamber of Horrors at Potter's Wax Museum. Here, guests can learn about the pirate Andrew Ranson and the horrifying story of his execution. You will also have the chance to visit the Old Jail, a historic site listed on the Florida and the National Registers of Haunted Places - it is believed to be the most haunted building in St. Augustine. Additionally, visit the city's iconic lighthouse during the day for beautiful views, or go at night to try and spot the ghost lighthouse keeper - if you are lucky… or not?
Recommended airport for private flyers: Northeast Florida Regional Airport (SGJ) 
4. New Orleans, Louisiana, US:
New Orleans, also known as The Big Easy and the Crescent City, is a popular destination famous for its extravagant Mardi Gras celebrations, the birthplace of Jazz, delectable cuisine, and Voodoo culture. This iconic city blends Spanish, French, African, and Native American influences, making it a unique and distinct place to visit, especially during autumn.
Our first autumn recommendation is to visit the Garden District. You can admire the eerie yet beautiful oak trees and the emblematic mansions, including the St. Charles Avenue mansions, which are adorned with Halloween decorations. Additionally, you can explore Lafayette Cemetery No. 1. Take a guided tour of the cemetery to learn about the city's past and visit the graves of famous figures, such as the Voodoo Queen Marie Laveau and the Mayfair Witches.
Explore the French Quarter's winding streets while listening to spooky tales about its supernatural inhabitants, including vampires, witches, and 'rougarou', often called werewolves. Along the way, you can discover the area's fascinating history and visit infamous haunted sites like the LaLaurie Mansion, the Museum of Death, or the Pharmacy Museum.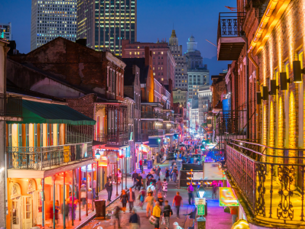 If you're looking for a break from the macabre atmosphere of the street, autumn is a delightful time to enjoy dining in New Orleans. With patios, courtyards, and scenic balconies, it's the perfect setting to relish the autumn breeze. You can savour seasonal menus featuring oysters and speciality cocktails. And what better place to celebrate National Gumbo Day, October 12th, than in its hometown?
Recommended airport for private flyers: New Orleans Lakefront Airport (NEW)
5. Mont Saint Michel, France: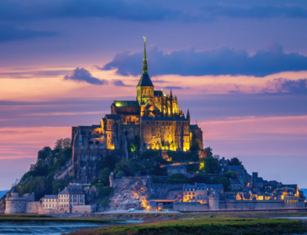 Mont Saint-Michel, a hidden gem in Normandy, France, is known for its medieval abbey and picturesque setting. Smaller crowds, cooler weather, and beautiful autumn foliage make it a must-visit destination. Upon arrival at Mont Saint Michel by private jet, you can expect a seamless and luxurious experience. Once you step off the aircraft, a chauffeur-driven car will be waiting for you, ready to take you on a scenic journey to this magnificent medieval abbey. Whether you're a history enthusiast or just looking for a thrilling adventure, Mont Saint Michel offers an unforgettable experience that captures the essence of the spooky season.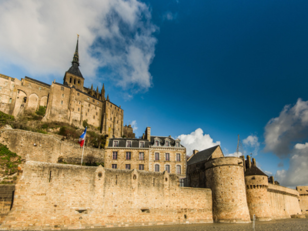 You will be fascinated by the Gothic grandeur and mysterious atmosphere that Mont Saint Michel exudes. Soaked in a rich history and boasting impressive architecture that dates back to the 11th century - immerse yourself in the culture and wonders of this UNESCO World Heritage site. Its stunning design, with towering spires and intricate detailing, showcases the skill and craftsmanship of the time. 
You will feel transported to another time exploring the abbey, perched on top of the island, and wandering through the village with its labyrinthine alleys and narrow streets. Consider taking a guided tour to learn more about the history, legends, and myths of the island. Whether you choose to visit the abbey, stroll along the ramparts, or indulge in local cuisine, your visit to Mont Saint Michel promises to be an unforgettable journey.
Recommended airport for private flyers: Rennes–Saint-Jacques Airport (RNS)
6. Transylvania, Romania:
Situated in central Romania, Transylvania is a mystical region full of rich folklore and traditions. Transylvania is a beautiful place surrounded by mountains, pristine nature, and dense forests. The autumn season is an incredibly scenic time to visit as the region's landscapes come alive with vibrant foliage. Additionally, autumn is grape harvest season, making it a great time to explore local vineyards and wineries and sample freshly produced wines.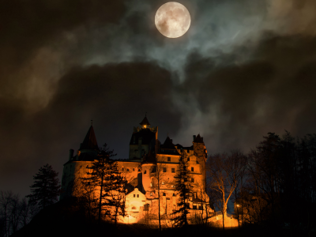 Transylvania is home to many medieval cities, but Sighișoara is a must-visit destination for those who enjoy dark history and chilling legends. It is recognized as a UNESCO World Heritage site for its historical importance and still stands as one of Europe's most beautiful and best-preserved medieval towns. The citadel is also the birthplace of Vlad the Impaler, who many believe inspired the character of one of the most famous vampire legends of all time, Dracula. Take some time to explore landmarks like the Clock Tower and the Church on the Hill while absorbing the town's rich historical ambience.
Transylvania is renowned for its famous castles, including Peleș Castle and Bran Castle. Bran Castle is a scenic fortress on a hill with a fascinating past. Many believe that Bram Stoker derived his inspiration for the tales of Count Dracula from this castle. You can explore the castle's iconic tours, such as The Time Tunnel, and discover the secrets of its hidden passages, which now serve as galleries of history and fantasy.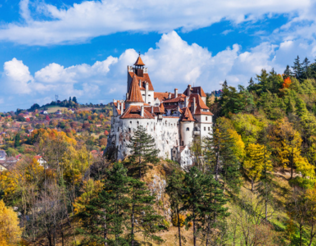 If you're looking for breathtaking natural scenery, explore Transylvania's caves. One incredible cave to check out is the Scarisoara Ice Cave; venture into Transylvania's cool, underground world for a heart-pumping adventure. Finally, learn about the Hoia Baciu Forest in Cluj-Napoca. Although we don't recommend an autumnal hike in this forest, this is one of the most well-documented paranormal sites in the world. The forest is reputed to be filled with ghosts, disappearances, and even alien stories. Some locals avoid entering the forest altogether, while others practice yoga and meditation within its confines. One thing is certain: this sight is a paranormal mystery that fascinates many.
Recommended airport for private flyers: Târgu Mureș Transilvania Airport (TMG)

Explore Autumn's Finest Destinations with Air Partner
Flying by private jet offers a multitude of benefits that enhance your overall travel experience. Firstly, you will enjoy unparalleled comfort and luxury onboard, with luxurious interiors, comfortable seating, state-of-the-art amenities, and gourmet dining options.
Additionally, flying with Air Partner provides flexibility and convenience, allowing you to travel according to your own schedule and ensuring privacy and confidentiality, making it ideal for high-profile individuals or those seeking a discreet journey. Overall, flying by private jet to Mont Saint Michel guarantees a seamless and exclusive travel experience. Contact our friendly team today for more information.