For 60 years, our team of aviation professionals have gone above and beyond to create personalized, custom charter experiences. Whether you are traveling for business or leisure, our experts are always on hand 24/7 to assist with all your charter requirements. Meet some of the people delivering extraordinary flight experiences.
We are delighted to highlight Simon Moore, Senior Vice President of Group Charter at Air Partner USA. Simon Moore has worked in the aviation industry for over 37 years. With specializations in flight operations and dispatch, Simon's vast experience includes working in Operational Control departments and as a station manager. Notably, during his time with Air Partner, Simon has specialized in Government/Head of State and Military flights, prominently from 1997 (Balkans War) through to 2005 following 9/11 and the operations within the Middle East. Simon has provided his highly experienced operational and logistical expertise for his clients, and we are proud to celebrate his 25th anniversary at Air Partner this year.
Here we took this opportunity to learn from Simon about his time in aviation and Air Partner...
Q. What do you enjoy most about working as a private jet broker?

A. Aviation has been a major part of my life for over 37 years. Aircraft charter presents challenges every day and it ensures we never gets bored. Being particularly active in the field, I have the greatest opportunity to assist my clients with their flight needs, no matter how complex their charter is. I have always specialized in flight operations and dispatch. And, now with my primary focus being on the more commercial aspects of aviation, having a background where I worked as a flight dispatcher and load controller for many different aircraft types — such as Caravelle, TU154, Concorde, L1011, DC8 in my early years followed by the newer generations of Airbus and Boeing aircraft — has allowed me to come up with "out of the box" solutions for my clients. I find having insight into pre-planning and logistical aspects of flights satisfying.
Q. During your time spent working in aviation, what changes have you seen within Air Partner?
A. Since I joined Air Partner in 1995, the group has certainly grown and increased our global footprint. Air Partner has spread from two European offices into a Global Charter Service provider. I am pleased to have been part of this growth having headed up departments in the United Kingdom as well as assisting in the opening of the German, Dubai and US offices over the years.
Q. What challenges has the coronavirus pandemic meant for charter broking?
A. With COVID-19, the pandemic has meant that we have had to adapt to an 'ever changing landscape' while still providing quality solutions to our clients. It certainly has been an interesting experience working in this dynamic situation in which everyone was learning at the same time. With the regulations and safety practice for how to mitigate, and having to navigate the various shut downs and restrictions in every country that we needed to operate, our team was able to face these major challenges and strengthen our operations by using our global network and 60 years of experience, which previously included working during times of crisis.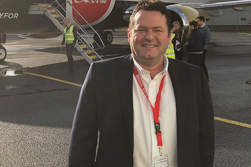 Q. What advice would you give to anyone looking to charter for the first time?
A. When chartering aircraft, you need to choose a company that you can trust to transport your group and will look after your needs as a priority. As you do your research, being able to have candid, open-ended conversations about what is ultimately best for you, with the goals you need to achieve in mind, are always important, especially nowadays. When making aircraft arrangements, we remain fully detailed when sourcing aircraft and fully transparent to our customers, providing advice our customers can rely on, for any situation and purpose.
Q. What is your most memorable/and or challenging charter to date?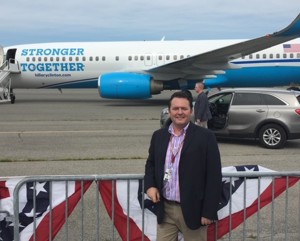 A. The most challenging charter project I helmed was providing two fully painted and reconfigured B737's to the Hillary Clinton Presidential Campaign in 2016. I had worked on this pitch for 18 months prior to the delivery of the first aircraft. We only had 30 days to prepare two aircraft for her and her running mate Tim Kaine. While deadlines posed a challenge, being able to deliver both aircraft on time was certainly an accomplishment. Even more rewarding was being able to personally hand over the finished custom aircraft over to Hillary Clinton and Senator Tim Kaine.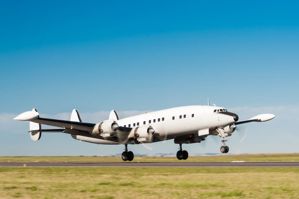 Q. What is your favorite aircraft and why?
A. The Lockheed Super Constellation L 1049 (photographed here), a variant of the original "Connie". In my opinion, it is an amazing and unique looking plane with a tri fin tail and distinctive looking fuselage. A sense of nostalgia looking at this aircraft, which was used at a time when aviation was becoming more widespread. The Constellation or VC-121A-LO was also an early "Air Force One" used by President Eisenhower and called Columbine II in the 50's.